Our Sustainability Program
We have already begun to build our legacy.  In 2009, we launched a reclaimed water program which has saved over 289 million gallons of potable water used for landscape irrigation and other initiatives.  Over 40% of our fleet runs on alternative fuels such as compressed natural gas including our lightweight trucks, parking shuttles and employee buses, with a goal of over 70% running on alternative fuels by 2021.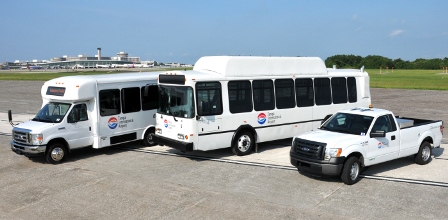 We recently completed the installation of 12 new electric vehicle charging stations (level 1 and level 2) for use by our travelers parking in Long Term, Short Term, and Economy Parking Garages including our valet service and cell phone waiting lot bringing our on-site total to 15 stations capable of charging up to 18 vehicles simultaneously.  For over 20 years, we have contributed significantly to United Way Suncoast and generated billions of dollars in economic output. 
All of these efforts are part of our intent to balance the triple bottom line: Our People, Our Planet and Our Collective Prosperity.  
We are excited to further build upon our past sustainable successes.  Thanks to a 2013 grant from the Federal Aviation Administration and with input from our community and employees Tampa International Airport developed and launched a Sustainable Management Plan (SMP) which set goals and outlined initiatives, creating a system of continuous improvement to monitor and report out results as our legacy of environmental actions grow over time. Our SMP identified the following high-level triple-bottom line priorities:
Health, Safety & Security
Community
Natural Systems Management
Waste Management
Build Green and Buy Green
Energy Management
Regional Economic Impact
In supporting these priorities, 17 goals and 55 strategies were developed to further reduce our environmental impacts, achieve economic benefits, and support our community. The complete goals and initiatives, along with the detailed implementation plan can be found in the Sustainable Management Plan.
Sustainability Initiative Snapshot
Our People
Employee wellness program
Infrastructure resiliency
Employee engagement program
Regional and industry organization partnerships
Our Planet
Reduce GHG emissions
Rainwater harvesting
Low-impact landscape maintenance
Natural elements facility integration
Expand our existing recycling program
Sustainable fleet management
Reduce airport roadway congestion
Reduce paper use and identify zero-waste zones
Composting program
Facilities condition index
Integrate sustainability into planning, programming, and implementation processes
Sustainable procurement
Our Collective Prosperity
Energy efficient escalators and moving walkways
Daylight harvesting
Renewable energy
Energy management
Life-cycle cost analyses