Michael Stephens
General Counsel and Executive Vice President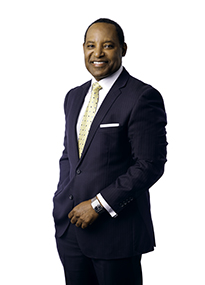 As General Counsel, Michael Stephens is responsible for providing legal opinions and advice to the CEO and Board Members on a wide variety of legal matters related to all aspects of the Aviation Authority ranging from governance to the management and operation of Tampa International, Peter O. Knight, Plant City, and Tampa Executive Airports. He is also the Executive Vice President for Information Technology Services, Human Resources, Government and Community Relations, Risk Management, and Business Diversity.
Stephens has more than 20 years of experience managing complex legal, compliance, human resources, labor, and employment issues. He joined TPA after most recently serving as the Chief Legal Counsel for the Hillsborough Regional Transit Authority (HART). Stephens also served on active duty as a Captain and Trial Counsel in the U.S. Army Judge Advocate General's (JAG) Corps, where he was also appointed as a Special Assistant U.S. Attorney. Additionally, he served on active duty as an Air Traffic Controller in the U.S. Air Force. 
He is a member of The Florida Bar Association, the Association of Corporate Counsel, and is a graduate of Leadership Florida. Nationally, Michael serves on the Pace Center for Girls Board of Trustees and Airport Council International's Legal Steering Committee. Stephens is also a recognized expert in cybersecurity and data privacy and has testified before Congress on cyber security and critical infrastructure protection. 
Stephens graduated from Morehouse College with a Bachelor of Arts in International Relations. He also holds a Juris Doctor from the Washington College of Law at American University as well as a Master of Arts in International Affairs from the School of International Service at American University.
Contact Michael Stephens (813) 676-4623 / MStephens@TampaAirport.com
John Tiliacos
Executive Vice President of Operations and Customer Service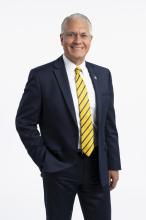 John Tiliacos is responsible for Airfield and Terminal Operations, Public Safety and Security, Emergency Management, Airport Planning and Development, Facilities Maintenance, and three General Aviation Airports. A 35-year airline and airport industry executive with extensive experience in domestic and international airline operations, Tiliacos previously served as Managing Director for American Airlines in Los Angeles, where he was responsible for leading one of American's largest operations. 
Tiliacos began his career in 1985 as the General Manager for Trans World Airlines in Nassau, Bahamas. After joining American Airlines in 1990, he quickly moved up the ranks, holding management positions across multiple U.S. markets including New Orleans, Chicago and the Northeast. In 2010, Tiliacos was selected to lead American's worldwide cargo operations as Vice President of Cargo Operations and successfully led the global implementation of 100 percent cargo security screening on American's fleet of aircraft as mandated by the U.S. Government appointed 9/11 Commission.
Tiliacos was instrumental in helping American Airlines achieve many innovative goals including being the first to launch broadband Wi-Fi connectivity on a U.S. airline. He led American's "787 Dream Team" which produced American's first-ever lie-flat Business Class Seat program for the delivery of Boeing's 787 Dreamliner and 777 aircraft.
As part of the Executive Team at TPA, Tiliacos led the Airport's first Concessions Redevelopment Program that produced 70 new food and beverage, as well as retail concessions, implemented Remote Bag Check at TPA's new Rental Car Center and launched the COVID-19 Passenger Testing Pilot, a first in the United States. Tiliacos also led the Congressionally-mandated U.S. Customs and Border Protection Biometrics project, created TPA's first Emergency Management and Resilience Team and has led the effort on numerous airport safety and security enhancements. 
In addition to successfully leading large, diverse and complex operations, Tiliacos has successfully achieved record operational, safety and security, and world-class customer experience results. 
Tiliacos is a graduate of The Florida Institute of Technology, where he received his Bachelor of Science degree in Aviation Management.  He is also a private pilot and holds a commercial pilot certificate for Unmanned Aircraft Systems. Tiliacos is married and he and his wife, Jackie, have three children.
Contact John Tiliacos (813) 870-8711 / JTiliacos@TampaAirport.com
Christopher Minner
Executive Vice President of Marketing and Communications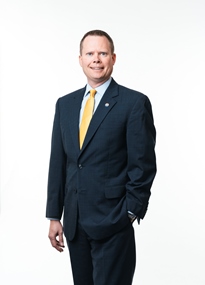 Chris Minner is responsible for the $360 million of commercial revenues produced by TPA and its network of three General Aviation airports. He leads a group of award-winning teams that include real estate, concessions, commercial parking, communications, marketing, research, and air service development.  Since landing in Tampa Bay, Minner has delivered hundreds of millions of dollars in economic impact to the region by successfully recruiting new nonstop flights to the United Kingdom, Switzerland, Panama, Germany, and the Netherlands. 
Minner is a native of Bakersfield, California. He began his professional career 25 years ago at his hometown airport. Since then, he's held senior leadership positions at airports in San Francisco Bay and Dallas / Fort Worth, Texas before arriving in Tampa Bay. Minner and his wife, Andie, live in Tampa Bay with their two sons, Michael and Ernie.
Contact Chris Minner (813) 870-8794 / CMinner@TampaAirport.com
Damian L. Brooke
Executive Vice President of Finance and Procurement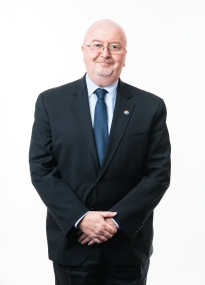 Damian Brooke joined the Hillsborough County Aviation Authority in March 2011 where he currently oversees the Finance and Procurement functions for Tampa International Airport as well as the Aviation Authority's three General Aviation airports. In his current role, he is responsible for managing a $340 million revenue and $175 million expense budget, as well as the Authority's annual capital program which is generally between $100 million and $200 million a year. Brooke and his team are also responsible for funding the Authority's $2.5 billion Master Plan program and managing the Authority's investment portfolio which currently totals just under $1 billion dollars. 
Brooke is an active proponent of the North American airport industry, chairing the Finance Steering committee for Airports Council International (ACI) North America in 2021. He currently serves on the Finance Committee for the ACI Board of Directors. For the past six years, Brooke has also served as a member of the ACI World Economics Steering Committee, working to promote the interests of the global airport community.   
Prior to coming to Tampa, he served as Assistant Vice President, Market Planning and Analysis for Dallas/Fort Worth International Airport, where he and his team supported the airport's efforts to attract new air service and provided extensive forecasting, commercial analysis, and budgeting direction throughout the organization.
He has more than 30 years of aviation industry experience having worked across a wide spectrum of commercial areas for both domestic and international air carriers and multiple U.S. airports. He has also provided both airline and airport consulting services to many industry clients. 
Brooke worked for American Airlines for more than 10 years, with experience in network planning, revenue management, international alliances, and regulatory affairs. He spent several years overseas working for Qatar Airways, managing the airline's network planning, revenue management, pricing, alliance and fleet planning functions. He also worked for eight years at the consulting firm Sabre Airline Solutions, building the company's International Airport and Government practice from its start and managing more than 100 international clients and staff on four continents. Additionally, Brooke was part of Sabre's airline turnaround team, helping restructure air carriers in Europe, the Caribbean and Latin America.
Brooke grew up in Manchester, England and holds a bachelor's degree from Central Connecticut State University. He and his wife, Teri, have three children.
Contact Damian Brooke (813) 870-8748 / DBrooke@TampaAirport.com