Damian L. Brooke
Executive Vice President of Finance and Procurement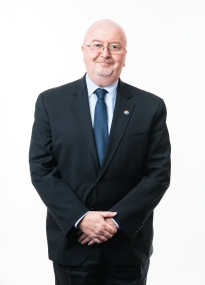 Damian Brooke joined the Hillsborough County Aviation Authority in March 2011 where he currently oversees the airport's Finance and Procurement functions. Prior to coming to Tampa, he served as Assistant Vice President, Market Planning and Analysis for Dallas/Fort Worth International Airport where he and his team supported the airport's efforts to attract new air service and provided extensive forecasting, commercial analysis and budgeting direction throughout the organization.
He has more than 30 years of aviation industry experience having worked across a wide spectrum of commercial areas for both domestic and international air carriers, multiple U.S. airports and has also provided both airline and airport consulting services to a large number of industry clients. 
Damian worked for American Airlines for more than 10 years with experience in network planning, revenue management, international alliances and regulatory affairs. He spent several years overseas working for Qatar Airways managing the airlines network planning, revenue management, pricing, alliance and fleet planning functions. He worked for eight years at the consulting firm Sabre Airline Solutions, building the company's International Airport and Government practice from its start to management of more than 100 international clients handled by staff on four continents. He also worked as part of Sabre's airline turnaround team, helping to restructure air carriers in Europe, the Caribbean and Latin America.
Damian grew up in Manchester, England and holds a Bachelor's degree from Central Connecticut State University. He and his wife, Teri, have three children. 
Contact Damian Brooke (813) 870-8748
Christopher Minner
Executive Vice President of Marketing and Communications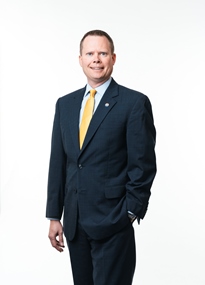 Chris Minner is the Executive Vice President of Tampa International Airport responsible for the $360 million of commercial revenues produced by TPA and its network of three reliever airports. He leads a group of award-winning teams that include real estate, concessions, commercial parking, communications, marketing, research and air service development. Since landing in Tampa Bay, Chris has delivered hundreds of millions of dollars in economic impact to the region by successfully recruiting new nonstop flights to the United Kingdom, Switzerland, Panama, Germany and the Netherlands.
Chris is a native of Bakersfield, California. He began his professional career 25 years ago at his hometown airport. Since then he's held senior leadership positions at airports in San Francisco Bay and Dallas/Fort Worth, Texas before arriving in Tampa Bay. Chris and his wife Andie live in Tampa Bay with their two sons, Michael and Ernie.
Contact Chris Minner (813) 870-8794
Michael Stephens
General Counsel and Executive Vice President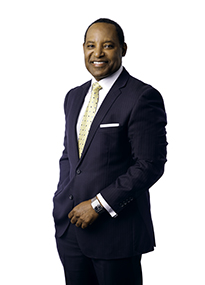 As the General Counsel, Michael is responsible for providing legal opinions and advice to the CEO and Board Members on a wide variety of legal matters related to all aspects of the Aviation Authority from its governance to the management and operation of Tampa International, Peter O. Knight, Plant City and Tampa Executive airports. Michael has over 20 years of experience managing complex legal, compliance, human resources, labor and employment issues.
In his EVP capacity, he oversees Legal Affairs, Human Resources and Administration, Government Relations, Enterprise Risk Management and Information Technology Services.
Prior to joining the HCAA team, he served as the Chief Legal Counsel for the Hillsborough Regional Transit Authority (HART). Before HART, Michael served as the Director of Human Resources at the University of South Florida. Michael also served on active duty as a Captain and Trial Counsel in the U.S. Army Judge Advocate General Corp, where he was also appointed as a Special Assistant U.S. Attorney. Additionally, Michael served on active duty as an air traffic controller in the U.S. Air Force.
Michael graduated summa cum laude from Morehouse College with a B.A. in International Relations. He also holds a Juris Doctor from the Washington College of Law at The American University as well as an M.A. in International Affairs from the School of International Service at The American University. 
Contact Michael Stephens (813) 676-4623
John Tiliacos
Executive Vice President of Operations and Customer Service
John Tiliacos is the Executive Vice President of Airport Operations and Customer Service for Tampa International Airport.  He is responsible for Airfield and Terminal Operations, Public Safety and Security, Aircraft Rescue and Firefighting, General Aviation airports, Airport Planning and Development and Construction, and Facilities Maintenance.
A 35-year airline and airport industry executive with extensive experience in domestic and international airline operations, John previously served as Managing Director for American Airlines in Los Angeles, where he was responsible for leading one of American's largest domestic operations.
John began his career in 1985 as the General Manager for Trans World Airlines in Nassau, Bahamas. He joined American Airlines in 1990 as General Manager for the Bahamas. He was later named American's General Manager for Lubbock, Texas, and New Orleans, Louisiana, before heading to Chicago's O'Hare Airport in 1996 where he served in various leadership roles, including Director of Airline Hub Operations for American's second largest Hub. In 2000, John was named American's Area General Manager for Tampa and Fort Myers. 
In 2004, he was selected as American's Managing Director for Flight Service Operations in the Northeast with responsibility for more than 5,000 flight crew based at Boston Logan, New York's JFK and LaGuardia Airports, and Reagan Washington National Airport. In 2008, he was named Managing Director of Onboard Products and was responsible for leading American's world wide Food and Beverage Operations, Inflight Products and Aircraft Cabin Design.
In 2010, John was selected to lead American's worldwide cargo operations as Vice President, Cargo Operations, and successfully led the global implementation of 100 percent cargo security screening on American's fleet of aircraft as mandated by the U.S. Government appointed 9/11 Commission. 
He was instrumental in helping American achieve many innovative goals including being the first to launch broadband Wi-Fi connectivity on a U.S. airline. He led American's "787 Dream Team" that produced American's first-ever lie-flat Business Class Seat program for the delivery of Boeing's 787 Dreamliner and 777 aircraft.
In addition to successfully leading large, diverse, and complex operations, John has successfully achieved record operational, safety and security, and world class customer experience results.
John is a graduate of the Florida Institute of Technology where he received his Bachelor of Science degree in Aviation Management. He is also a licensed pilot and holds a commercial pilot certificate for Unmanned Aircraft Systems. John and his wife, Jackie, have three children. 
Contact John Tiliacos (813) 870-8711