Employee Spotlight - Violet Cummins
(Oct. 18, 2018) Violet Cummins' strong Polish heritage and deep ties to her hometown of Chicago was not enough to keep her from dreaming of one day moving to Florida. Her home which she shared with her husband Mike and her three children happened to be on a lake and she'd create a little "beach" by hauling sand to the lakeside and getting pet store lizards and Home Depot tropical plants to put in the yard. The lizards and plants never survived the long, cold winters, and Violet barely did, either.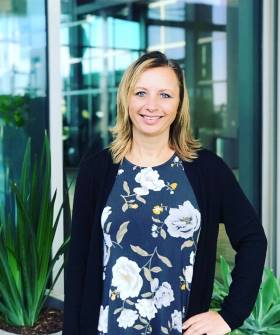 After her mother, who also always wanted to move to Florida, died of breast cancer at age 58, Violet decided she could no longer wait. With three small children in tow and no jobs lined up, Violet and her husband took a leap of faith, sold their home and moved to the Tampa Bay area.
"I didn't want to get stuck up north," Violet said. "I wanted my kids to be able to go outside and play and have a better quality of life."
It was tough at first. The year was 2008, the economy was sinking and jobs were not easy to come by. Her husband, who worked as a union-secured electrician up north, had to start over with no clients and no guarantees. Violet, who did executive assistant work for life insurance companies in Chicago, struggled to find a job, too. With the abundant free time the couple now had, they took their twin kindergartener girls and third-grader son to the St. Petersburg fishing pier to learn how to catch fish.
"I figured even if we ran out of money and went broke, we'd at least be able to eat fish," Violet said.
Violet eventually found work as an executive assistant for a law firm specializing in foreclosure, one of the few lines of business doing well during the recession, but as foreclosure cases started to dry up in 2013 she began looking for a new path. She interviewed with the Aviation Authority and began working as the executive assistant in the Legal Affairs department in May 2018.
"I've always loved airports and thought they were the coolest places," Violet said. "When I was a teenager, instead of going and hanging out at malls or downtown, I would go hang out at O'Hare airport."
After longtime Board Services Administrator Lourdes Swope retired three years ago, Violet took over the duties of recording HCAA Board meeting minutes, drafting the agendas, handling communications between the Board and the Authority, planning policy and procedures meetings, and assisting the Legal Affairs department among many other duties.
"Lourdes did a phenomenal job of training me and I like that I got to sort of make the job my own," Violet said. "I like knowing what my deadlines are and I work with a wonderful team."
Violet lives in Lithia's FishHawk Ranch with her family.  Her twin girls Jamie and Jessica are now 15 and her son Jake is now 18. She loves how friendly her neighborhood is, how everyone is always outside and hanging out on the weekends and that her children got to experience a life growing up in sunny Florida.
"Tampa is such a fantastic place," Violet said. "This is the life I wanted to have."