Employee Spotlight - Rich Coudurier
Richard Coudurier already looks forward to that tremendous feeling of satisfaction that he'll get when he eventually takes his first ride on the new automated people mover from the new Main Terminal station to the new consolidated rental car facility, scheduled to be completed in 2017. As the Authority's Director of Planning and Design overseeing much of the historic expansion at Tampa International Airport, he feels a special ownership and satisfaction as he watches every steel beam erected, every yard of concrete poured and every construction milestone reached.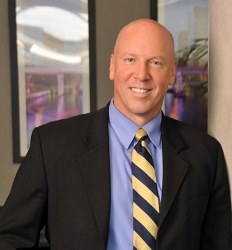 "As an engineer, you get so few opportunities to work on projects this big and impactful," Coudurier said. "I can't wait for the first phase of the Master Plan to be finished, but I'm definitely enjoying the journey along the way."
Always intensely focused and obsessed with details, Coudurier originally thought he wanted to be a dentist and initially studied pre-dentistry when he enrolled at Michigan State University after high school. As a child of European immigrants – his father a British cabinetmaker-turned-automotive tool and die foreman and his Dutch homemaker mother – Coudurier always admired the skills of dentistry and thought it seemed like an interesting career.
But soon after beginning his studies, he realized his analytical skills and interest in simplifying complex problems might be better suited toward engineering. More specifically, he fell in love with airport planning and design under the mentorship of his engineering professor, Dr. Frank McKelvey, who authored one of the country's most well-known books on airport planning and design.
After Coudurier graduated with his Bachelor of Science in Civil Engineering in 1983, McKelvey helped him land a job with Greiner Engineering Sciences (which later became URS Corporation) in Tampa. Coudurier went on to have a long career spanning more than 30 years focusing solely on airport design. He worked on more than 60 airports worldwide including Cincinnati, Chicago O'Hare and Denver.
Most recently, Coudurier was a Vice President at RS&H Inc., serving as their National Airfield Service Group Leader and Engineering Discipline Lead. From there, he joined TPA in May of 2014 to help direct the planning and design of the rental car facility, main terminal expansion, people mover and taxiway bridge reconstruction, as well as the multitude of other capital improvement projects at TPA and the three General Aviation airports.
It's quite a change from his work on various airports around the country, and it's one he cherishes.
"There's a totally different sense of complete ownership and accountability when you're working to make your hometown airport better," Coudurier said.
Coudurier lives in Carrollwood with his wife, Julie, and his sons, 10-year-old Ryan and 7-year-old Mitchell. Julie and the boys practice violin together and the family spends a lot of time at martial arts and tennis lessons. Coudurier hopes to live as full of a life as his 89-year-old father, who lives in Michigan and is still very active and volunteers his driving services to those who need help with rides or errands.
Coudurier said he still thinks he would have made a great dentist. But, he said, "I feel very confident I wound up doing what I'm probably best at."
Perhaps nothing will seal that confidence more than that his first ride on TPA's future people mover.