Employee Spotlight - Natalie Brown
(June 20, 2018) Natalie Brown has saved countless lives, delivered several babies and helped thousands of injured and sick people – including many at TPA – in her nearly 24 years as a firefighter paramedic. She once wrangled a 5-foot boa constrictor into a pillowcase in the Tampa International Airport cell phone waiting lot, making news headlines around the country.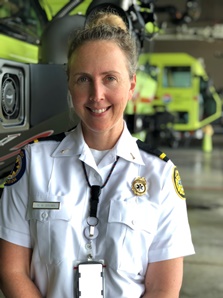 However, none of her heroic feats have gotten quite as much attention as a medical call she responded to at TPA on May 25. A pregnant Golden Retriever named Ellie, about to board a flight with her owner, went into labor at an Airside F gate. By the time Natalie successfully delivered six of eight puppies – the first two born before she arrived – photos and video of the strange scene had already gone viral through social media and TV news reports. Photos of Natalie and her assisting partner, paramedic Larry Glanton, helping the laboring dog were published on news sites as far as Japan and Germany.
"I still have people coming up to me randomly saying, 'Hey, you look familiar … ,'" Natalie said. "And then someone else will turn around and say, 'Oh yeah, I saw that story, I remember you!'"
Whether she's handling bizarre animal cases or tending to a fallen passenger, Natalie adores her job as a Tampa Fire Rescue paramedic for TPA's Aircraft Rescue and Firefighting crew. She came to TPA about five years ago after a long career working for Dade City Fire Department, Pasco County Fire Rescue and Tampa Fire Rescue. To her, TPA is the "crème de la crème" of places to work, she said, and she enjoys how well the airport treats its ARFF team, how friendly of an environment it is and how interesting her work is during her 24-hour shifts every few days.
"It helps that I have a wonderful partner and crew," she said. "Everyone in this station just wants to do a really good job, and it comes through in everything they do."
Natalie was born in London, England, though her British accent is barely detectable. She moved to the Tampa Bay area with her parents and brother when she was 10 years old, and she was obsessed with ballet, dancing from the age of 3 to 18.
Sometime during her teen years, she became interested in medicine. After graduating, she went to firefighter school where she completely fell in love with emergency medicine and knew she had found her calling as a paramedic.
Her job has also allowed her to travel around the world delivering safety messages to teens and military personnel in a program called Street Smart, aimed at presenting cautious tales to students around the U.S. and at overseas military bases. As a paramedic, Natalie is able to use real stories to help new drivers understand the dangers of drinking or texting behind the wheel or not wearing seat belts.
"To have kids come up to me and thank me afterward and to know I've made an impression – that really makes my day," said Natalie.
While she feels like she couldn't have picked a more fulfilling career, Natalie said one of the best parts of being a firefighter paramedic is that her schedule allows her to plenty of time at home with an even more rewarding job – being a wife and mother. Natalie has five children: 26-year-old Nicholas, 24-year-old Kelsey, 15-year-old twins Victoria and Sarah and 13-year-old Isabella. Her husband, Captain Rickie Brown, also works at Tampa Fire Station 7.