Employee Spotlight - Michael Kamprath
Reserved and soft-spoken, Tampa International Airport Assistant General Counsel of Legal Affairs Michael Kamprath insists he's simply "not very interesting." He's just a regular guy in a suit with a wife and two kids, driving his Jeep Wrangler to and from work every day.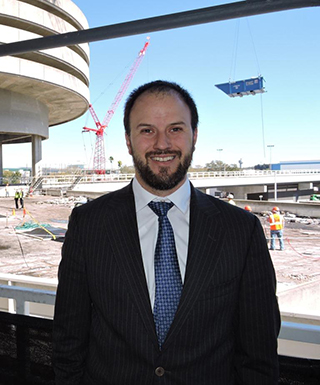 What he forgets to mention sometimes is that he has traveled all over the world, including two stints living abroad in Australia. He's been to Singapore, Fiji, East Africa, New Zealand and all over Europe and Canada. He has climbed Mt. Kilimanjaro, gone diving in the Great Barrier Reef, backpacked through the South Pacific and Southeast Asia and he has renovated his own home with his wife Meredith.
And that's just in his free time. As a board-certified attorney, Michael was recently named a finalist for the National Outstanding Young Lawyer of the Year Award by the American Bar Association, which praised him for his leadership and advocacy work. He was the inaugural co-chair of the ABA Section of State and Local Government Law's Young Lawyers Committee and chair of the ABA Forum on the Construction Industry's Young Lawyers Division.
Michael also served as the Chair of the Hillsborough County Code Enforcement Board.  He has devoted countless hours to Engineers Without Borders-USA and has volunteered in several leadership positions for various causes dealing with law, engineering, planning and development. He also serves as a peer reviewer for the American Society of Civil Engineer's Journal of Legal Affairs and was selected as Reviewer of the Year for 2013.
"I stay pretty busy," Michael said.
Michael joined the Hillsborough County Aviation Authority a year ago after working for private construction law firms for nearly 10 years. He spotted the job opening for an Authority Assistant General Counsel in a Florida Bar newsletter in 2013 and was immediately intrigued.
With his background in land use and construction law, Michael has been a perfect fit for an airport undergoing a historic billion-dollar expansion and renovation. He's enjoyed working and negotiating on the various project contracts, he said, and finds working for the airport interesting and fun.
"It's very different than working for private firms," Michael said. "I like being responsible for one client, and everybody here is driven to achieve the same particular goals."