Employee Spotlight - Marilyn Gauthier
(Sept. 20, 2018) As a student at The Ohio State University, Marilyn Gauthier struggled to find her niche. She first chose a major in International Relations, and even completed a minor in Japanese, but found the field to be too political for her taste. Then she pursued international business, but found it didn't keep her interest. She even tried studying Communications, but that didn't seem right either.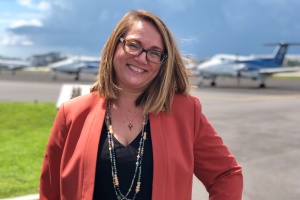 "I was ready to give up," Marilyn said.
After some soul searching and a conversation with her father, who was an aeronautical engineer for Westinghouse for more than 30 years, Marilyn decided her one true interest was airplanes. She didn't want to fly them. She just wanted to be near them.
A college advisor told her about the Aviation Management Program and it sounded perfect. She worked hard, landed a job at The Ohio State University Airport, graduated and felt she had found her calling.
"It changed my life," Marilyn said. "It was exactly what I'd been looking for and I found my niche."
After graduation she worked in an entry-level position at the general aviation airport in Morristown, N.J., for two years, then decided to apply for a commercial airport operations job to get more experience and an eventual chance to move into management.
She learned of an Airport Operations Specialist position at Tampa International Airport, which was back then a two-year internship, and applied for it even though she had hesitations about moving to Florida. She had been to Florida once and her standout memories were her car getting broken into and a piece of sand scratching the cornea in her eye landing her in the emergency room.
But she went for it anyway and immediately loved TPA and the staff there. During the internship, Marilyn worked a month at a time in various departments, learning how different parts of a commercial airport operate. When the two years were up, a General Aviation Operations Manager position opened and she interviewed for it. Her bubbly personality and eagerness to learn and grow helped her land the job, and 20 years later, she's still here.
Working in general aviation, where many of the jet takeoffs and landings are tied to business activity in the Tampa Bay area, has not only fulfilled her dream of being around planes. It has given her a special vantage point and insight into the Tampa Bay area's evolution as a region.
"It's been really interesting to watch Tampa grow," Marilyn said. "I feel like when Mr. Lopano arrived, we really partnered with the city, and the airports' growth is a direct result of Tampa growing. It's been exciting to see all the businesses moving here."
Marilyn is the Vice President of the Tampa Bay Aviation Association, which aims to promote and enhance business aviation with the emphasis in West Central Florida. She also recently joined the Aviation Authority's Toastmasters Club, Plane Speaking @FLYTPA, and is the group's Vice President of Public Relations, putting her brief college foray into communications studies to use.
"Lately my outlook on everything has been all-in," Marilyn said. "I'm more confident, I'm more excited and I'm working on increasing my communication skills. This is a great time to be at the Authority."
Marilyn lives in Carrollwood but often takes trips to the mid-state bayous of Louisiana, where she loves to visit her Cajun family on her dad's side. A social butterfly, she loves spending time with friends and family, whether it's just to catch up on the latest in their lives, going bike riding or taking her sister's yoga classes.
She hopes to continue to have a long career in aviation, just like her dad.