Employee Spotlight - Marcus Session
(August 16, 2018) Marcus Session's interest in information technology started when was a little kid playing with Tinkertoys and Legos. That turned into taking cars apart to see how they worked.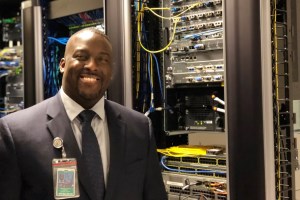 "Whether it's a process or it's a car, I want to know: how does it work? What makes that thing happen? And that curiosity sort of drove me to IT," he said.
Marcus said it was while playing video games in college that he discovered his passion for building computer networks that link people.
"I always thought it was interesting that I could connect to somebody in China. Right? And that's what kind of sparked it. Bringing people together," he said.
The Miami native moved with his family to Tallahassee when he was a child. He excelled as an athlete at Leon High School, playing organized football and track, and was introduced to Tampa when he enrolled at the University of South Florida to study management information systems.
His relationship with USF would pay big dividends in his career. Before he received his B.A. degree at the north Tampa campus in 2001, he had started working as a Sr. Computer support specialist for USF Health Information Systems.
In 2004 he was named Sr. Network Engineer for USF, a position he held while simultaneously earning his Masters in management information systems.
In September 2016, he joined the Aviation Authority, and now serves as Vice President of IT Services.
"I love it," he said.  "The thing I like about IT is a very simple thing: you help people."
Recently, Marcus was named as one of 11 Chief Information Officers of the Year named by the Tampa Bay Business Journal. He'll be honored along with some of the best IT professionals in the business at a luncheon in September.
When he's not at the airport, Marcus enjoys some downtime by hanging out at his Land O'Lakes home with his wife, Jillian, and daughter, Camille, who recently celebrated her first birthday.
He's also a big sports fan, and although he's a Miami native and Tampa resident, the New York Jets is the team he roots for on NFL Sundays.
Why?
A Dolphins fan who grew up in Miami, Marcus said he lost all interest in his hometown club after fruitlessly waiting for hours for NFL icon Dan Marino to give him an autograph. Once the superstar QB departed, he decided it was time to find a new team to support.
The very next week the Dolphins were scheduled to play the Jets. "So I picked the Jets." (The Bucs remain his second favorite).
As someone who's lived in Miami and Tallahassee, Marcus said he enjoys Tampa for being "in the middle" – and he's not talking about the geography.
"Miami is very fast, and Tallahassee is much slower," he said. "There are lots of things to do in Tampa."