Employee Spotlight - Laura Lemon
Laura Lemon's ambition as a working woman was evident at a young age, when she began her first high school job at the concessions counter at a movie theater and quickly worked her way up to box office manager and then projection manager.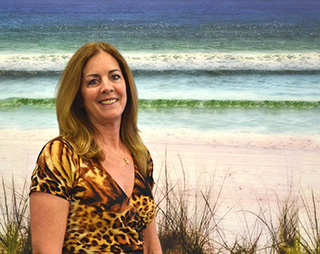 She always liked to work. But she wasn't always sure of what career path she should follow, and she tried a few before landing at Tampa International Airport, where she now works as a Manager of Administration for the Maintenance and Planning and Development departments.
It's been a great fit, particularly over the last couple of years as she's helped create and implement the new, paperless Tampa Airport Maintenance Management System (TAMMS), which has helped Tampa International Airport employees and maintenance staff process maintenance work orders more efficiently and easily. She worked closely with TPA Programmer Analyst Tan Nguyen on the concept and execution, and then presented the system to the staff to fully launch and implement TAMMS this past fall. This was no simple task. 
"Oh my gosh, it took hours and hours and days and days of training," Laura said. "And lots of selling the idea to the managers, and then to the superintendents and then the supervisors. Change for anyone is hard. But eventually, everyone got on board."
 Laura has a knack for enforcing, and even thought she would become a police officer when she was younger. Growing up on Long Island, her father was a New York City Police Department officer who patrolled Harlem before retiring and moving his whole family to Florida – all six kids, including Laura and her identical twin, Linda, who were the youngest of the bunch.
After graduating from Seminole High School, Laura attended St. Petersburg Junior College studying police administration, but she continued working at the movie theater another two years after finishing her studies because she kept getting promoted.
When she left the theater, she found herself doing medical billing work, first for a mail-in pharmacy, and then for USF Physician's Group. She also worked as an accounts manager in billing for a home health care company.
When cutbacks left her without a job in 2002, she applied for a job with the Hillsborough County Clerk of the Court in the payroll department. After a few years of doing that, she spotted a clerk job opening with the Tampa International Airport Police Department and thought, "Maybe I will fulfill my job of working in law enforcement," she said. She applied and got the position in 2004.
After two years of helping process police reports, she had her sights set on management and moved into the maintenance department as an administrative supervisor, which she has loved.
"We have a lot of fun," Laura said. "I have a great team."
Laura hopes to continue improving the TAMMS system and other aspects of the maintenance work order process at TPA. While it's seen major improvements over the last year, technology gets better every year and she hopes to get the entire maintenance system committed to a paperless process. With so much growth and construction going on, she said, this is becoming more of a priority.
Laura lives with her boyfriend David, and the two like to ride around on David's motorcycle on the weekends and sometimes long distance to bike events.
The two also recently bought a pontoon boat and like to go boating around to the Sand Bar and other pretty spots in the Gulf. They often go on road trips with her twin Linda and her husband, which can be confusing to the others on the trips at times.
"Linda talks like me, walks like me, and if the guys aren't looking at us while we're talking, they can't tell us apart," she said. "We're very close. It's been nice having a best friend near me all my life."
Laura has two daughters, 26-year-old Heather and 28-year-old Ashley, who both live close enough to see them often. Laura also enjoys being a grandmother to Ashley and son-in-law Bobby's children, 9-year-old Alyssa and 5-year-old Madison.