Employee Spotlight - Kenneth Strickland
Kenneth Strickland's dreams of being an Air Force fighter pilot "crashed and burned" – as he put it – when he discovered he was partially colorblind. So he pursued other passions he picked up during his undergrad and graduate work: research, teaching, decoding human nature and figuring out what drives people's decisions.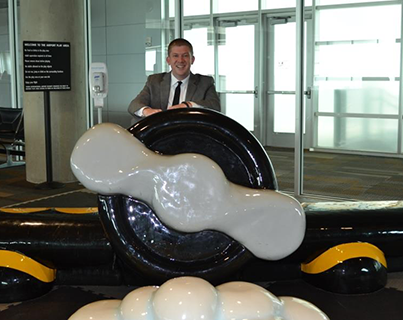 After years of studying and working in the field of market research, he can't believe his luck. As Tampa International Airport's first Manager of Research and Evaluations, Kenneth gets to combine both his love of aviation with his love of sociology and statistics. In his year and a half working at TPA, he has brought valuable info to the airport with brand research, Wi-Fi surveying, focus groups and data analysis. Most recently, he has helped airport leaders and employees understand the Airports Council International's Airport Service Quality Awards, moving TPA from No. 3 to No. 2 in North America for customer service, as well as No. 5 in the world for airports of its size.
"I always knew I wanted my work to serve a greater purpose than mere corporate marketing," Kenneth said. "I like knowing this research helps not just the Airport but also the greater community."
Born in Dallas to a truck driver father and an elementary school nurse mother, Kenneth's love for airplanes began early when his uncle took him to the Children's Museum in L.A., which had a real cockpit cut from a plane. He began bagging groceries when he was 14, saving his income to pay for flying lessons at age 16.
Kenneth assumed he'd attend the Air Force Academy to become a fighter pilot, but when a color vision test dashed those hopes, he went to Texas Tech University, where he got his undergrad degree in political science and sociology, graduating in three years with honors. He then went on to grad school at Ohio State University, where he enjoyed teaching undergrad courses and assisting with research studies while working toward a Ph.D.
It was in Ohio where he also met his future wife Krista, who was finishing up her studies to be an immigration lawyer. When Krista had the opportunity to take a job in in the Tampa Bay area, the couple jumped at the chance to leave the northern winters behind.
Kenneth also decided to detour from his academic studies and enter the real world of marketing analysis and consumer research.
"I didn't want to spend the better part of my life working on a paper," Kenneth said. "I wanted to start my life and start a family."
Kenneth taught social science at St. Petersburg College for a couple years before working as a research analyst for a marketing research firm located near Tampa International Airport, then as a consumer insights analyst for Home Shopping Network. His most recent job was at Sterling Research Group, where he served as the primary research consultant to Caesars Entertainment, providing valuable info about casino gaming consumer behavior. 
Kenneth came to TPA with tons of research, teaching and analysis experience, as well as the family he hoped to have when he left his doctorate degree behind. He and Krista, married six years now, live in St. Petersburg with their twin 2-year-old sons, Keegan and Korbin.    
Now finishing his Ph.D. at the University of South Florida, Kenneth splits his time between writing his dissertation, work and spending time with his boys. He enjoys teaching them new experiences, like bowling for the first time or making pizza at home, and he is building a 737 flight simulator at home in his spare time.
Kenneth still has a passion for flying and used to co-own a small Cessna in St. Petersburg before he had children. He tries to pass on his love of aviation by showing his sons photos of cool planes he sees at work, as well as volunteering with Young Eagles, a program that introduces children to flying and one he remembers as a young boy.
"My favorite aviation memory by far is participating in Young Eagles," Kenneth said. "I love just the awesomeness of passing the controls to the kids and seeing their faces when you say, 'You're flying now.'"
As another hobby, Kenneth enjoys amateur photography and is always perfecting his skills.
His favorite photo subjects?
Birds and planes.