Employee Spotlight - Joel Feldman
Many who work at Tampa International Airport consider themselves aviation enthusiasts, drawn to the airport by their love of planes and flight.
But few are as fervently passionate as Senior Manager of Airport Concessions Joel Feldman.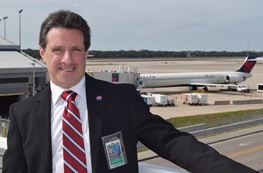 Visit Joel's office and see the dozens of commercial airplane models spilling over his cabinets and desk, or the framed poster from the movie Airport on his wall – an homage to his favorite film, which he saw in the theater when he was 6 years old and helped fuel his desire for airports and aviation. 
A self-declared aviation geek, Joel said, "I like to watch airplanes, and like the smell of jet fumes. If it flies, it's my hobby. I'm one of those people who can look at an airplane and tell you all about it."
Young Joel, a surprise baby to his 40-year-old parents who already had 14-year-old and 18-year-old sons, grew up on Long Island, New York, living only 8 miles from John F. Kennedy International Airport. As soon as he could talk, he began begging his parents to take him to the airport.  So about once a month, they took him to the roof-top parking lot of the Pan Am terminal where he could watch all the aircraft activity around the airfield.
There were so many different types of aircraft and airlines from countries all over the world, Joel recalled. The roof-top parking lot was at the exact height of the flight deck of Pan Am's Boeing 747s.  As young Joel peered into the flight decks, it was then and there he decided he wanted to become a Pan Am 747 captain. It's also where Joel learned pilot/controller terminology by listening to radio transmissions on a scanner his parents bought him.
At age 15, Joel's father sold his business and he and his parents moved to Coral Springs, Fla., a major life change that Joel still recalls.
"I still remember looking out the back window of the car as we were leaving my old neighborhood and waving goodbye to my friends," Joel said. He spent the rest of his high school years living with his parents in a retirement community condo, but at least Fort Lauderdale's airport wasn't too far away.  Joel recalls, "For my 16th birthday, one of my brothers sent me a card that said, 'Hope you're enjoying your retirement!'"
After graduating high school, Joel attended Embry-Riddle Aeronautical University.  To realize his dream, Joel began taking flying lessons, working toward his pilot's license, and taking aviation management courses.  But one day in class, he realized he couldn't see the blackboard very well.  After a visit to the optometrist, it was confirmed that Joel was nearsighted and had to begin wearing glasses.
"It was the early 80s, right after deregulation, there was a recession, and the airlines weren't hiring pilots unless they were absolutely perfect," Joel said. "You had to have 20/20 uncorrected vision."
He shifted his focus to airport management studies, hoping to be an airport manager instead of a pilot.  "If I couldn't fly the planes, then I was going to run the airport," Joel said.
While attending Embry-Riddle, Joel was a management intern at the Fort Lauderdale Executive Airport.   He also worked for a commuter airline named Trans Air, where he worked his way up from a ramp agent, to a flight dispatcher.
In 1987, Joel was hired by the Broward County Aviation Department and began working as an Airport Operations Agent at Fort Lauderdale-Hollywood International Airport.  For the next 13 years in Operations, Joel worked in Airside, Terminals, and Landside, and was promoted to Airport Operations Senior Agent, and then to Airport Operations Supervisor. In 2000, Joel left Airport Operations for Airport Properties as the result of a promotion to Assistant Airport Properties Manager.  For the next 10 years, Joel gained experience in airport properties, where he was responsible for leasing, concessions and real estate at both Fort Lauderdale-Hollywood International Airport and its general aviation airport North Perry Airport. A promotional opportunity presented itself in 2010 and Joel accepted a position at the Bill and Hillary Clinton/Little Rock National Airport as the Manager of Business and Properties.  Joel recalled "I was this little guy from New York living in the Deep South.  It was like I was living the movie My Cousin Vinny!  But, it was a nice little city."
Joel was in Little Rock for three years until family obligations brought him back to Florida. He had a tough time finding work at first so he took a job as a grocery stock clerk at The Fresh Market, shelving groceries and mopping floors, longing to return to his beloved aviation.
Two and a half years ago, Joel saw an opening in the Concessions Department at Tampa International Airport and applied. He got the job, and is now responsible for managing and administering the contracts for ground transportation such as taxis, shuttles, public parking, off-airport parking and rental cars.
Joel turned out to be the perfect guy to handle rental car contracts during the planning and construction phases of TPA's future consolidated rental car center (ConRAC), having been responsible for and seen similar facilities built at other airports.  The rental car companies' business representatives doubted the Airport's ability to get the project built on time and on budget.
"But here we are, exactly two years after we first kicked the project off and we have signed agreements and the project is on time and on budget," Joel said.  He recently sent the rental car business representatives some photos of the construction progress and they were amazed by how quickly and efficiently the project is moving.  Joel often hears that when the rental car companies are discussing new ConRACs being planned at other airports, they tell airport management they need speak with Tampa as an example of doing it right. 
When the ConRAC opens, TPA will have double the number of rental car brands on site, increasing from four companies representing eight brands to nine companies representing 16 brands.
Joel is married to Debbie, and they have three children: 16-year-old Alison, 13-year-old Kristen and 12-year-old Noah. He likes to cook, read, spend time with his family and visit the beaches.
Even after so many years in Florida, Joel still considers himself a New Yorker and his Long Island accent proves it.  He loves cold weather and hopes to one day retire to his home state that he left as a teenager.
But for now, he said, he's just happy to be able to work at the airport, watch planes, and take that occasional whiff of jet fumes.