Employee Spotlight - Jewel McNaughton
(November 1, 2018) "I always tell my officers, 'We work for the passengers and will keep them safe during their travels by giving them first class security and excellent customer service." Jewel said. "We'll put officers our there to walk the line, talk to the passengers, engage with them. Treat them like you would want to be treated when you fly."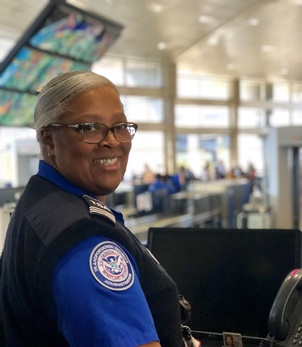 For Jewel, this means keeping every Airside A airline Station Manager on speed dial in her cell phone. Often when a passenger is in danger of missing a flight – or already missed it – she'll call the airline directly to get information or help, putting the traveler at ease. 
Recently, a mother and son were traveling without the son's ID, prompting a more in-depth screening from the TSA, but the two seemed unusually distressed.  Jewel could not understand why both mother and son were angry.  She later found out the two passengers had spent days without their clothing and belongings after their airline lost their luggage upon arrival. It was eventually found, but on departure back home, the airline charged them a baggage fee due to their luggage being overweight.
Jewel immediately made a call. The airline's manager quickly arrived at the checkpoint, apologized to the mother and son for their experience and inconvenience caused.  He also refunded the bag fee that was charged and gave both passengers an upgrade.  The passengers left the Airside happier than when they came.  
"I always tell officers not from our airport, you have to come to Tampa Airport to see how it's done,'" Jewel said.
Jewel is part of a team that often travel around the country to help TSA when it needs supervisors or extra officers in other airports. When Pope Francis came to the United States, Jewel was one of a select few officers assigned to the Pope Francis detail in Washington DC and Philadelphia.
She loves Tampa International Airport and takes pride in working for TSA on Airside A.  She treats her officers and the stakeholders as if they were her family.
In her 10 years since joining the TSA in Tampa, Jewel has seen a positive shift in the agency's overall culture, which is also reflected in its traveler-friendly TSA Cares program and social media outreach. She loves Kirk Skinner, the acting Federal Security Director for the region and credits Manager Steve Brown for transforming the culture of the Airside. They are, she said, "truly a blessing for this airport."
Jewel was born in Guyana, South America and later moved with her family to New York, where she became a U.S. citizen at age 15. She graduated with her Bachelor's Degree from the New York Institute of Technology, got married, then worked while she raised two daughters. She worked for several years with Tower Air, which is how she got interested in the aviation industry.
After her parents moved to Florida more than a two decades ago, Jewel her husband and two children moved to Florida as well to be close to them. She took a job with the Department of Homeland Security's Transportation Security Administration and quickly fell in love with TPA.
Five years ago, Jewel was diagnosed with a life threatening illness.   She continued working light duty, mostly doing clerical work, for a year as she underwent chemotherapy and radiation treatments.  She told very few people but her immediate supervisors that knew were extremely caring and protective toward her.  Due to her platinum colored hair, she is lovingly called the "silver fox" by her officers on Airside A.  "Everyone here has become my family," she said.
Jewel loves spending time with her husband Donald and daughters Brittany and Lauren, of whom she's extremely proud.
At the end of a long shift after screening thousands of passengers, Jewel drives all the way to her Sugarmill Woods home in Homosassa, "with the birds and the bears and one eagle that loves to hang out on my roof" she said. Her favorite feeling is to go home to the soothing stillness of her neighborhood.
"I like the quiet," she said.