Employee Spotlight - Greg Forrest
(April 20, 2017) In second grade, Greg Forrest excelled at his schoolwork, often finishing tasks and assignments well before his classmates and making straight-A's. Which is why his behavior was so puzzling to his teachers and parents.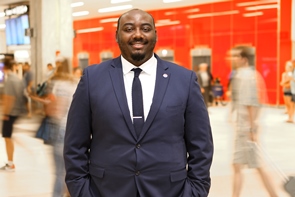 "I've always been someone who works hard but enjoys having fun," Greg said. "So I'd finish my work and then it would be a lot of class disruption, horseplay, talking to friends before they'd finished their work, clowning around."
His teachers and counselors finally tested him for the gifted program and realized the problem: Young Greg was likely just bored. They placed him in 3rd grade and for the remainder of his schooling, he was always a year younger than most of his classmates but much happier in the classroom.
Now a Senior Business Analyst who conducts research and data analysis for Tampa International Airport, Greg is still constantly looking for new challenges, new ways of looking at trends and new ideas to help TPA improve and enhance the Airport for guests and passengers, as well as for employees. He sifts through feedback from TPA's Wi-Fi survey – "extremely valuable data," he said – and also looks at passenger demographics and economic impact studies to help determine air service target areas.
Greg finds his role to be especially rewarding because TPA is his hometown airport. Born and raised in West Tampa, he often spent time hanging out with his extended family and playing with his many cousins in the Carver City neighborhood where his grandparents lived.
In 6th grade, Greg interviewed for and was awarded the Take Stock In Children Scholarship by a non-profit organization in Florida that provides opportunities and mentors for deserving low-income students, aimed at helping them escape the cycle of poverty through education. He was mentored by two Outback Steakhouse executives and learned about running a business and entrepreneurship as a teen.
By the time he was 17, Greg was attending University of Tampa, where he got his bachelor's degree in Management. He then went on to get his master's degree in Entrepreneurship at the University of South Florida.
After graduation from USF, Greg worked as a financial analyst for Citibank for a year and then for McKibbon Hospitality, a hotel management company, where he analyzed profits and losses and created reports to help hotels run more profitably and efficiently.
The work he did in the field of hospitality wound up being a great foundation for his eventual work in airport research. In November 2014, two days before his wedding, Greg got a job offer from Tampa International Airport. He joined TPA that December.
"I like being able to deliver insights to enhance the customer experience," Greg said. "And it's great to work for a place that makes a difference in our community."
Greg commutes every day from Brandon, where he lives with his wife Livia, a teacher who works in Bradenton. Greg describes himself as an "entertainment-phile," always looking for new movies, concerts and other fun activities to do with Livia on the nights and weekends.
The two also like traveling, having recently gone to the Cayman Islands and Cabo San Lucas. The two are looking forward to traveling to Washington D.C. next month, where they plan to visit the Newseum, the International Spy Museum and the National Museum of African American History and Culture.
Greg is also active in helping fundraise for the Hillsborough Education Foundation's Take Stock in Children mentoring and scholarship program. He speaks about his experience growing up with the program, most recently presenting at Florida Economic Forum where, coincidentally, his own CEO Joe Lopano was named the Economic Leader of the Year.