Employee Spotlight - Frankie Jamison
(August 1, 2018) Frankie Jamison loves working in the airline business. The industry gets in your blood, he says. In fact, he already retired once and decided to come back five years ago, taking over as Tampa International Airport's American Airlines Station Manager two years ago.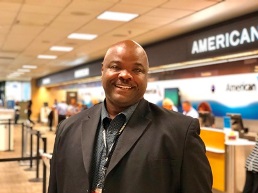 Around Airside F, he's become a familiar smiling face, with his tall, towering figure hard to miss. He enjoys interacting with customers and adores his staff, calling his employees "phenomenal."
"I love people," Jamison said.
What some don't know is that Jamison is a former New Orleans Saints linebacker who is now an accomplished solo saxophonist, playing for audiences all over the world. He's touring in Turkey in October, and he performs so often in Peru, he sponsors an orphanage there that he visits regularly. 
Even with his many talents and interests, Jamison has enjoyed a long career in aviation, working at nearly a dozen airports around the country, including Jackson, Miss., Allentown, Penn., Cleveland, Detroit, Nashville, and West Palm Beach. He worked through the Northwest-Delta merger transition before retiring in 2012, then came back to U.S. Airways which merged with American in 2013.
Jamison was born and raised in Shreveport, La., where he began playing saxophone at age 13. In college he played football for Louisiana Tech University while majoring in petroleum engineering with a minor in music. After college, he played with the Saints for a year and half before an injury forced him to stop, and suddenly he was looking for a new career. At the time, the petroleum industry was on shaky ground, so that was out.
He had also met his wife Beverly and was ready to settle down and have a family, so a football comeback career was seeming less likely.
One day Jamison went to go pick up his great aunt from the Shreveport airport and was pushing her wheelchair through the terminal when he was stopped by an airline manager who recognized him from his football fame. Why don't you come work for the airlines, the manager asked.
Soon, Jamison found himself working at the Shreveport airport, but was eager to leave Louisiana because being recognized by football fans was awkward. He moved to the Jackson, Miss., airport, one of many moves he and his wife and two sons, Christopher and Nicholas, would make over the next nearly 30 years.
Jamison doesn't plan any more moves after Tampa.
"I definitely landed in the right place," Jamison said. "This airport is amazing. I love my staff here. I've moved enough. This is where I want to spend the remaining years of my airline career."
In the spare time he has in between running TPA's American Airlines operations and playing sax gigs in places like Japan, the Netherlands and France, Jamison loves fishing. He and his wife and younger son, who is also a musician, live near the water in Spring Hill, and he recently bought himself a boat this past Father's Day.
It's a great way to get away from it all, Jamison said. Even someone who loves people and entertaining needs an escape once in a while.