Employee Spotlight - David Wright
(November 16, 2017) Having spent 26 years as a mechanic for Toyota and earning respect as one of the company's top 12 master certified technicians in the Southeast region, David Wright wasn't looking to leave.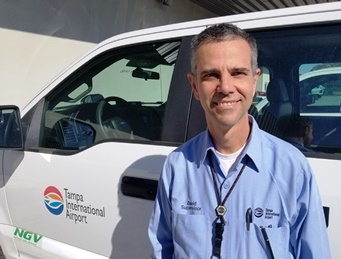 "I had a good gig," David said. "I was well respected in the Toyota community."
But when Tampa International Airport was looking for a Fleet Maintenance Supervisor to help maintain a variety of vehicles and equipment, David couldn't turn down the opportunity. He always thought highly of the Airport, liked what he heard about all the new developments at TPA and thought the change of pace might be good for him.
He joined the Aviation Authority in January 2015 and never looked back.
"You couldn't tear me away," David said. "I love the culture at the Airport and the leadership. I truly, honestly believe that the top leaders care about all levels of employees at TPA. I feel like no matter what you do here, your role is appreciated."
David was born and raised in Tampa by his father, a postmaster, and homemaker mother, and joined the Navy after graduating from Leto High School. He worked as a personnelman on a ship, learning office etiquette, filing and other administrative duties, but yearned to work more with his hands. Even as a small child, he loved taking apart radios and gadgets, and later as a teen, working on cars.
He applied for a job with what is now Stadium Toyota after leaving the Navy. After he was hired, he would occasionally run into a challenging vehicle issue that he'd never seen, then he'd thumb through technical manuals and books and figure out how to do the repair.
Several years later, David was regarded as one of the leading mechanics in the region and would get calls from Toyota repair centers from all over Florida when technicians needed help or advice on repairs. He also embraced the company's core principal called kaizen, a philosophy of continuous improvement.
David has incorporated the philosophy at TPA, where he and his staff are called on to make quick repairs to everything from ARFF vehicles to runway repair equipment to construction machinery. He finds the work challenging and exciting, he said, and loves figuring out new ways to do things better.
David recently received the "Friends of Procurement Award" for his work assisting the Procurement Team with new product and equipment information. He's often the first to step up and fill in wherever needed and also volunteered and participated to be a "Storm Rider" during Hurricane Irma, on hand to make any necessary repairs during and after the storm.
For 32 years, David has been married to his beloved Tammy, whom he met while working at a pizza place in high school.  The two live in Land O' Lakes with their German shepherd, cat and Amazon parrot, and they love hunting, especially on their Tennessee property they visit every year.
David is still very much into cars, and while he loves driving his Porsche with "Mr. Rite" plates whenever he gets the chance, his more often relies on his trusty standby – a Toyota Corolla.