Employee Spotlight - Dave Nicewinter
(September 19, 2017) - Those who know Airport Operations Manager Dave Nicewinter will not be surprised to learn that one of his early childhood career aspirations was to be a weatherman.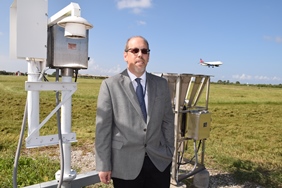 As a boy growing up in a small, rural town in Pennsylvania, Dave loved spending time outdoors, watching rainstorms, fascinated with weather disasters and phenomena such as wildfires and tornadoes.
When Dave joined Tampa International Airport's Operations team in 2002, he was thrilled to learn he'd be overseeing TPA's emergency preparedness drills and programs and acting as the Airport's coordinator working with city, county and state Emergency Operations Centers, National Hurricane Center and National Weather Service meteorologists and other local, state and federal disaster agencies.
"It's a part of my job I enjoy the most, getting the latest information that can help the Authority and keep us tied to the community in the event of a disaster," Dave said. "My goal in these situations is to can help our tenants and Authority be as prepared as possible."
Dave put his skills and connections to the test most recently as Hurricane Irma made its way toward the Tampa Bay area. He stayed in close contact with the National Weather Service, providing detailed breakdowns and updates to the Authority and its tenants and helping to ensure TPA was as informed and prepared as possible as Irma blew through the area with Category 1 winds.
The Airport sustained very minor damage Sunday night and early Monday morning and was up and running by Tuesday morning.
Dave also coordinated regular drills to prepare the airport for major commercial plane incidents, including a real-time, all-day exercise that involves the entire Authority. This past spring, he helped TPA earn the National Weather Service StormReady designation, certifying that the Airport meets specific criteria and has several systems in place to help its employees, tenants and community be as informed and prepared possible in the event of severe weather. TPA was the first airport in Florida to earn the StormReady certification.
"What's really gratifying to me is the relationships I've built with members of the emergency management and weather communities over the years," Dave said. "
Aside from storms and disasters, Dave has been fascinated with aviation ever since he took his first flight from Philly to Denver when he was 12. He began working to get his pilot's license when he was a teenager, with his sights set on becoming a professional pilot, but with questionable eyesight he decided to study aviation management in college so he could work at an airport or for an airline.
Dave first came to TPA in 1995 as a USAir Express employee, then joined the Authority as a Comm Center dispatcher in 1996. He worked as an Airport Operations Specialist and as a Senior Manager of General Aviation before he became an AOM in 2002.
Dave lives in Riverview with his wife of 18 years, Julie, and his 14-year-old daughter Olivia. The family loves going to Disney World and taking cruises, and they recently moved to a new home where they like to spend time together and relax by the pool.
Having grown up in a rural area, Dave likes digging in the dirt and hopes to get back into vegetable gardening at his new home. He loves spending time outside and still has a passion for studying the weather.