Employee Spotlight - Darryl Roberts
(November 3, 2016) For many people – particularly those with special needs, medical issues, or those who have not traveled for some time – the most stressful part of traveling through an airport is the security screening process.  Some passengers may be unfamiliar with carry-on restrictions or have concerns about screening procedures when they have medical implants or other medical devices.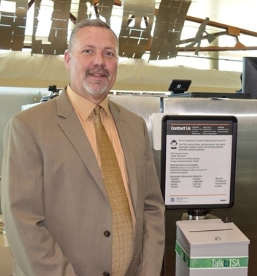 Darryl Roberts gets it. As the Transportation Security Administration's Program Specialist in charge of Customer Service & Community Outreach, he represents a side of TSA that not many think of when they think of Homeland Security. While safety and security is TSA's No. 1 priority, the agency also wants passengers to feel like they're being treated with care.
"While security is the reason we're there, we're also tasked to remember there's a human aspect to our jobs," Roberts said. "Not everyone may take the time to read the signs or review our TSA.gov website before going through screening.  They might have other things going on in their lives. It's our job to help them understand what's allowed and what isn't when they fly."
While TSA has always regarded customer service to be an important presence at the screening checkpoints, the agency has implemented more customer-focused outreach programs in the last five years. Roberts serves as a Tampa International Airport contact and resource for the TSA Cares program, which was launched in 2011 but has been more heavily promoted recently to assist passengers with disabilities or medical needs. Passengers can call the TSA Cares hotline at 1-855-787-2227 before traveling to have a conversation with someone about procedures and what to expect. If necessary, a specially trained officer called a Passenger Support Specialist can meet the passenger or passengers when they arrive at the security checkpoint to help them through the process.
"It can be very uncomfortable and overwhelming for some people, especially if they've never gone through a TSA checkpoint before," Roberts said. "Just to have someone there to talk them through it really puts people at ease."
When a passenger is upset with the screening process, Roberts is usually one of the first people to reach out to them, bringing his naturally calm and kind demeanor with him. Whether it's an elderly person with medical issues, a stressed parent traveling with small children or a transgendered passenger, Roberts listens to their complaints, notes their feedback and tries to leave the customer satisfied their voice was heard and taken into consideration.
The extra steps to be customer friendly, which extend to all of TPA's TSA staff, have not gone unnoticed. TPA consistently gets high scores in the Airport Service Quality (ASQ) survey, which is the industry standard in determining the top airports around the nation and world. In 2015, TPA was ranked No. 2 nationally, and a large component of that was due to passengers' experience at TSA checkpoints.
"Passenger feedback regarding TSA Customer Service at TPA averages well above 60 percent positive," Roberts said. "I attribute a lot of that to our TSA officer's commitment toward not just delivering World Class security, but exceptional customer service also.  Of tremendous benefit is the great relationship we have with the Airport, particularly with Guest Services and Operations. We have a program for other airports to model." 
Roberts also oversees local outreach efforts, meeting with service groups and TPA community partners, such as the Greater Tampa Bay Chamber of Commerce, to help spread the word about TSA customer support programs such as TSA Cares and TSA PreCheck. He helps coordinate partnerships with local Wounded Warriors to assist veterans with extra care from curb to gate, and the local TSA officers also work with local service dog groups like the Southeastern Guide Dogs, helping train the service puppies to be comfortable around uniformed officers and security procedures.
Born and raised in Lakeland, Roberts passion for people sparked an interest in law enforcement growing up.  After graduating, he went into the Army for three years, serving as a military police officer.
After leaving the military, he pursued a career in business management, but soon found himself drawn back to serve his country after the events of 9/11. When the U.S. Department of Homeland Security was formed he joined the agency and traveled to airports around the country to assist in transitioning them from private screening procedures to federalized screening.
Roberts spent five years as a manager within TSA's Behavioral Detection and Analysis program, and he has also assisted with relief efforts with both Hurricane Katrina and Super Storm Sandy as an active member of the Department of Homeland Security's Surge Capacity Force.
Roberts still lives in Lakeland and is married to Zulaika, who also works for TSA as a financial specialist. The couple has three children: 19-year-old Jacob, 11-year-old Gabriel and 6-year-old Julianna. In between the kids' sporting events and activities, Roberts is very active with his church, serving as an associate pastor in charge of worship, and he helps direct a food bank ministry for families in the Lakeland and Polk County area.