Employee Spotlight - Clayton Lackey
(May 4, 2017) Year after year, Tampa International Airport enjoys the community love and media attention that comes from being ranked among the top three U.S. airports by Condé Nast, TripAdvisor, CNN, Airports Council International and other publications and surveys.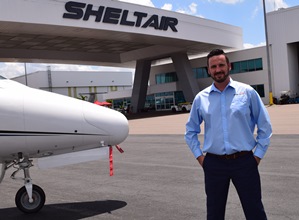 Yet just across the runway, Sheltair has quietly enjoyed similar recognition for years in the small, particular world of general aviation. Most recently, Sheltair's Tampa operations were ranked the No. 1 FBO in the U.S. in a worldwide survey by Aviation International News.
"For years and years, we've been up there in the top 10, then we were in the top six, then number two," said Clayton Lackey, General Manager of Sheltair TPA. "For us to finally hit No. 1 is a big deal and speaks a lot about our facility, our staff and our reputation we work hard to gain."
The reputation goes way back, well before Sheltair purchased Tampa International Jet Center, retaining all of its longtime staff. Lackey himself began working at the facility just before the 2009 Super Bowl, which was a hectic time as most sporting events are for FBOs. He has since become a pro at handling big events and high volumes, including the Republican National Convention and the more than 400 general aviation planes that recently flew in for the College Football Playoff National Championship Game.
"That was bigger than anything we'd ever had here," Lackey said. "We pulled lots of people in from the other Sheltair locations to help, building a team of nearly 50 people to help."
Lackey loves working in general aviation and feels grateful to have come across it as a career several years ago.
Originally from Kankakee, Illinois, Lackey went to a small college on a full-ride music scholarship. He played drums and piano with hopes of becoming a studio musician after graduating.
But partway through his degree, he left school and returned home to help his father run the family cleaning business. After the family sold the business, Lackey found himself in his early 20s, not knowing what to do next.
Lackey studied finance and graduated from the University of Illinois with an economics degree, working for a small general aviation facility and getting married in the meantime.
After graduating, Lackey and his wife Kristin decided to move to Florida on a whim. They were tired of the cold weather and Kristin had an opportunity to work as a retail manager at The Shops at Wiregrass. The couple moved to New Tampa and Lackey began hunting for jobs. He finally got hired, with his experience working for an FBO, at Tampa International Jet Center, towing and fueling jets.
"At the time, I didn't realize the quality of operation I was getting into," Lackey said.
He has since seen the facility grow over the years, culminating in the sale to Sheltair a couple years ago, and has worked his way up to General Manager, overseeing a top-notch staff that caters to special clients such as high-profile business moguls and celebrities, as well as the many avionics and jet sales brokers, mechanics and others who lease space at Sheltair.
"This is a unique side of aviation that not many get to see," Lackey said. "I love coming to work every day and I feel fortunate to work alongside such a great international airport and its staff, as well as my own."
In his free time away from the office, Lackey enjoys spending time with his wife and three small daughters: 6-year-old Addison, 4-year-old Emerson and 2-year-old Mackenzie. He's an avid fan of all Chicago sports teams, including the Cubs and the Bulls, and loves to play golf.
He rarely has time to play music anymore but is starting to be surrounded by it through his daughters. The oldest recently picked up the violin and his very entertaining 2-year-old seems destined to be a singer.