Employee Spotlight - Brenda Geoghagan
(March 1, 2018) In 1978, Brenda Geoghagan started at Tampa International Airport as a clerk to help pay for her college tuition. Now, 40 years later, she prepares to retire as the Director of Guest Services and one of the longest tenured employees at TPA.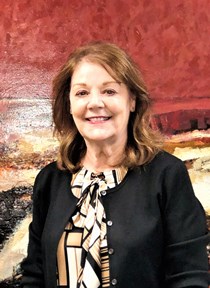 The Tampa native grew up with aspirations to work in Public Relations but never expected to create such a lasting career at the airport.
When she started, the CEO of the airport at that time, George Bean, didn't even have a computer at his desk. She was answering phones and drafting monthly airline schedules with a typewriter and white-out. Since those days, she says Tampa International Airport has been focused on one thing: the passengers.
She said Mr. Bean would have been pleased with anything that put the passenger first.
"The passenger is still the number one priority," she said. "In every committee or planning meeting, the main question is always, 'How is this going to work for the passenger?' It's always in everybody's thoughts." 
Brenda's next position was the Employee Relations Manager. Under the supervision of the PR manager at the time, she was in charge of planning events, recognition and managing benefits for the employees.
In 1996, the new CEO of the airport, Louis Miller continued the airport's legacy while bringing in technological updates.
"It was a new day and a new CEO," she said. "Everything was getting modernized."
Brenda then took over as the Director of Public Information and Community Relations. This position began the specialization of the communications department at the airport. She focused on the airport newsletter, media, customer service and the newly created public arts program.
As the face of the airport, Brenda knew that the emphasis on customer service was what made –and still makes – TPA so special. That came even more into focus in 2011 with the arrival of the current CEO, Joe Lopano, and the creation of a department focused entirely on guest services with Brenda at the helm.
As Director of Guest Services, she manages the tour program, guest service team, customer service representatives and worked as the liaison for airport volunteers.
As Brenda prepares for retirement, she gives simple advice to her successor.
"Love what you do, listen to your staff and focus on safety and customer service," Brenda said.
Brenda looks forward to a new adventure in her retirement. She wants to focus on traveling, spending time with her family, gardening and doing work on her 1924 Mediterranean home.
Her immediate retirement plans include a trip to Los Angeles for a wedding. She'll be sure to fly out of her favorite airport, TPA.