Volunteer at Tampa Airport
Tampa International Airport is looking for friendly, outgoing volunteers to greet and help travelers.
How would you like to represent Tampa Bay and be one of the first people to welcome visitors from all over the world?
If you are friendly and outgoing, patient and helpful, we want you to play a vital role in greeting the millions of travelers who arrive in Tampa every year by becoming an Airport Volunteer.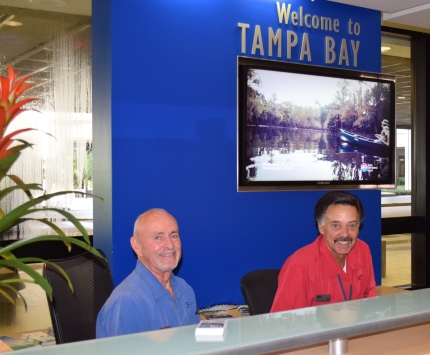 Tampa International Airport is a fast-paced, high-energy environment recognized as one of the most loved airports in the world with award-winning customer service. Be a part of the airport team that greets guests arriving for conferences and conventions, major sporting events, and tourists visiting from across the globe throughout the year.
Volunteer duties include:
Welcoming visitors at our new Tourism Information Centers with smiles and helpful information on regional attractions, events and points of interest throughout the Tampa Bay area;
Providing directions to locations throughout the Tampa Bay area;
Directing guests to airport amenities;
Greeting everyone with the friendly Florida hospitality that says "Welcome to Tampa Bay!"
Volunteers receive these benefits:
A Tampa International Airport Volunteer uniform shirt;
FREE airport parking any time;
Employee concessions discounts;
Quarterly meetings at local venues
The gratitude of hundreds of passengers!
For more information, email the Volunteer Services Manager Dortresia Johnson or call (813) 554-1477.
If you're ready to participate, click on Volunteer Application to fill out our online application, then click Continue.