FAA Office of Civil Rights honors TPA for its disadvantaged business programs
(July 19, 2018) Citing outstanding outreach efforts and high woman- and minority-owned business participation in concessions and construction, the Federal Aviation Authority presented Tampa International Airport with the 2018 Civil Rights Advocate and Partner Disadvantaged Business Enterprise Award. Elita McMillon, TPA Director of Ethics, Diversity and Administration, accepted the award on July 18 at the 2018 FAA National Civil Rights Training Conference in Arlington, Va.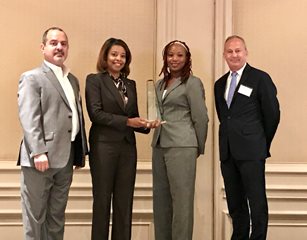 "What an honor to be recognized by the FAA for the hard work we've put into building relationships with our DBE and ACDBE businesses," McMillon said. "This is an award that belongs to my entire Business Diversity team, as well as our construction and concessions partners who have made this mission their priority, too."
Among some of the Fiscal Year 2017 accomplishments noted by the FAA were:
Concessions redevelopment outreach initiatives which assisted with bringing 15 ACDBE joint venture partners to TPA
An 60.4 percent increase in ACDBE concessions gross receipts from FY15 to FY17
The Taxiway J project in which Cone and Graham used 16 woman- and minority-owned firms and spent $3.2 million in design and construction dollars toward minority firms, exceeding the original goal by more than $1 million
TPA's Business Diversity Department – led by McMillon, Business Diversity Managers Cheryl Hawkins and Stephanie Pierce and DBE Program Specialist Bonnie Yauilla – plan to keep the work going with more outreach events and goals as the Airport embarks on Master Plan Phase 2 and other major improvement projects.