Employee Spotlight - Zydrunas "Z" Rackauskas
(June 1, 2017) Raised in Lithuania by his mother and grandmother, Zydrunas Rackauskas – who goes by Z – had a competitive spirit and a drive to see the world beyond his small country. He began playing basketball at age 8, and ten years later after finishing high school, the 6-foot-5 young man was faced with two choices in Lithuania: college studies or professional basketball.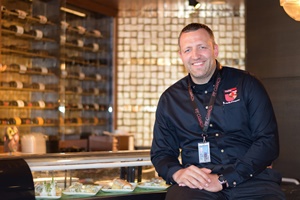 He chose a third option: Go live with a host family in the United States and play college basketball while also getting an education.
"I didn't intend to stay beyond college," Z said. But under the guidance of the young couple who hosted him, whom he now affectionately calls his "family," Z found opportunities he never dreamed of – most recently as the General Manager of Tampa International Airport's new P.F. Chang's.
Z recalls arriving in Louisville, where he had to complete final year of high school before going off to University of Virginia, and speaking almost no English. He had to get a thick Lithuanian-English dictionary to learn how to tell his host parents, "I need new deodorant."
His host mentor was A.J. Summers, whom some may now recognize around TPA as the Director of Operations for Tinsley Family Concessions. At the time, A.J. and his wife Michelle had no children and Z jokingly calls himself their "first child," as Z's "brother" Will and "sister" Hannah came years later.
When Z went off to University of Virginia for two years and then Kentucky State University, he always returned to his home base with A.J. and Michelle, who continued to mentor and guide him along the way. It paid off. Z – captain of his college team for two years – made excellent grades in school, earning his bachelor's degree in Business Administration and his M.B.A. with a concentration in Accounting.
After college, he was fortunate enough to once again follow the leadership of A.J., who had joined Tinsley Family Concessions. Z moved to Florida in 2012 to work under the Tinsleys, initially doing accounting work at the TPA corporate office for the company, then moving into managerial positions at Cigar City Brewing and Chili's.
Last year, Z became the General Manager of the Main Terminal P.F. Chang's and it's a challenge he has embraced.
"The thing that has impressed me most about Mr. [George] Tinsley is his commitment to excellence," Z said. "He doesn't just want to run successful restaurants. He wants to be the best in the business. A lot of his past and current restaurants are among the top performing franchises in the country. It's a blessing to be part of a winning organization."
Managing a new restaurant while the Main Terminal is under construction is a fun challenge, Z said, and he's excited about the changes happening at TPA. He can't wait for adjacent SkyConnect station to be finished and the restaurant's outdoor dining terrace and bar to open later this year.
Z sometimes visits his mother and grandmother in Lithuania but now considers the Tampa Bay area his home. He still sometimes can't believe his luck. Z is engaged to marry his fiancée Erin in September and the couple has a nearly 3-year-old daughter named Gianna. The three live in the New Tampa/Wesley Chapel area and love to spend time together as a family.
"I truly am living the American dream," Z said. "I would not trade anything for this journey."