For our guests who go green
Green Parking
If you have an electric vehicle, we've got you covered.  Covered parking that is. 
All on-airport parking options have electric vehicle charging stations with designated parking spots convenient to the terminal.  
In the Economy Parking Garage, the charging stations are close to the shuttle bus stops. 
Visit our Green Parking Page for a complete list of available stations and maps of our parking facilities.
Thank you for recycling!
Tampa International Airport expanded its terminal recycling program in March 2009.  A total of 132 recycling containers were placed in the public areas to provide convenient access for our guests to recycle when they visit TPA.  Our program allows for the recycling of plastics, glass, aluminum, steel cans, newspapers, magazines and paperboard.  An additional 31 containers were placed in employee breakrooms.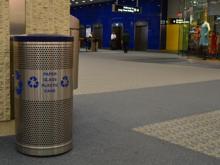 Tampa International takes part in the City of Tampa program which accepts co-mingled recyclables, so there's no need to separate your items.  They all go into the same bin! 
Over 1,100 tons are diverted from the landfill each year.  We're saving the environment, while we're saving the airport over $80,000 per year in trash disposal fees.