Employee Spotlight - Wanda Dunnigan
(February 16, 2017) Growing up in Lancaster, Pa., Wanda Dunnigan dreamed of one day becoming an auto mechanic. Her father was a master welder for a steel company and taught his daughter how to weld and do basic maintenance on car.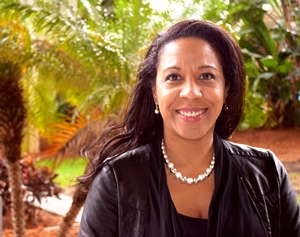 "I was a huge tomboy," Wanda said. "While other girls were playing with Barbies in the summer, I was driving go-carts and playing stickball and street hockey. I loved it."
Still, this tomboy, now Tampa International Airport's Manager of Employee Relations and Talent Acquisition, studied cosmetology at Tampa Bay Tech High when her family moved to Florida.
She worked a series of jobs, sometimes two or three at a time, throughout her late teens and early 20s, paying for her own brown Chevy Chevette to get her from place to place. After becoming a a certified professional administrative assistant, and landed a job with an office supply company where she did some human resources work on the side.
"I thought, 'Hey, I really enjoy this,'" Wanda said, and she pursued more HR duties as a department secretary for Price Waterhouse, where she spent a few years helping newly recruited consultants and other employees find housing and get settled.
She also had her first child, Tyler Nicole, and was determined to raise her as a single mom. She relocated to Dallas, picking the city because of her love of the Dallas Cowboys football team. About a year later, she returned to Tampa to be closer to her ailing mother and a series of jobs led to her becoming a recruiting assistant for Anderson Consulting, which eventually became Accenture. She traveled all over Florida recruiting business analysts and managing consultants.
"I learned so much about behavioral interviewing and reading people's body language," Wanda said. "That's when I really became interested in employee relations and HR."
During her years working in the HR departments for Quest Diagnostics and Hillsborough County, her duties ranged from internal investigations, employee relations and payroll to performance management and training.
While working for the county, she got married and received one of the biggest surprises of her life: A twins pregnancy at age 41, after she and her husband, Arthur, assumed they would never have more children and were preparing to be empty-nesters.
During her pregnancy, Wanda worked for both the county and Victoria's Secret while she was also finishing her bachelor's degree, turning in her final thesis after she was put on bedrest. She and Arthur – who is also the father of Wanda's older daughter – welcomed Mikayla and Madison in 2011.
Just a few years later, Wanda joined the Aviation Authority, where she has enjoyed working in a family-type atmosphere and oversees employee relations, HR-related policies and recruiting. She helped the department through a massive IT transition with Oracle and is currently working on ways to enhance employee recognition programs.
Wanda enjoys spending time with her daughters, her husband and her large extended family. Several women in her family – sometimes up to 32 aunts, cousins and other relatives – get together every other Mother's Day to celebrate together, and she remains very close to her parents.
Despite all of Wanda's accomplishments, she still feels like she has so much more to do. She keeps a running "bucket list" and one of the goals is to sing the National Anthem at a sporting event, despite never singing the anthem in her life.
"If something seems hard or scary," Wanda said. "I have to conquer it."