Employee Spotlight - Trudy Brandvold
(January 4, 2018) While she and her husband raised two boys in her home state of Minnesota, Trudy Brandvold was always the mother that had a houseful of teenagers who looked up to her as a "second mom," she said. She loved cooking for them, joking around with them and being there if needed for the 10 or more kids that were always hanging around in the basement or kitchen with her sons.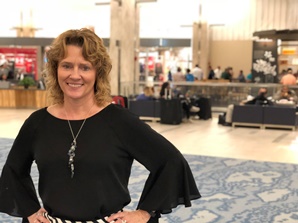 She also owned and ran a coffee shop in Princeton, Minn., called Coffee Corner, which often set up booths and kiosks at various town festivals and grad night events. It was a lovely life … but very, very cold in the winter, particularly for Trudy's husband who worked outdoors as a glazier who fit glass into windows and doors.
"We got very tired of the weather and wanted to be somewhere warmer," said Trudy, who was born and raised in International Falls, Minn., nicknamed the "Icebox of the Nation."
About four years ago, the Brandvolds visited Georgia to see their younger son, Rory, who was graduating from Army boot camp and then visited a cousin in the Tampa Bay area. Shortly after, they decided to sell the coffee shop and move down themselves.
Trudy, her husband Guy and their younger son Rory settled in Spring Hill, where they still live, while their oldest son Trevor stayed in Minnesota. After a few months of not working, Trudy was at the DMV office one day and mentioned to a woman handling her car registration that she was looking for a job. The woman had told her that Tampa International Airport was a good place to work and to check there.
In December 2014, Trudy began working as a temporary administrative assistant in the Marketing Department at TPA, and by the following summer, she was a full-time part of the team. Trudy supports the department with Oracle requisitions and other duties but also has a heavy hand in coordinating and planning the annual TPA 5K on the Runway and helping with other events such as air service launches and ribbon cuttings throughout the year.
"I really enjoy it," Trudy said. "It's always very busy and interesting, and you never know what you're going to be doing from day to day. It's just a really great team and I love the people I work with."
Trudy loves reading and taps into her more creative side by knitting and crocheting in her free time. She and her husband of 28 years recently began traveling more now that their sons are grown.
"One of our goals when we moved down here was to be able to do more things together," Trudy said.
The couple still visits Minnesota once or twice a year when they have the chance, and Trudy still sees some of her other "children" she watched grow over the years. It's a period of her life she looks back on fondly, and a couple years ago as a Christmas present from her boys, she got a tattoo of a bear paw print that reads, "Mama Bear."