Employee Spotlight - Tonya Haigler
(February 8, 2018) Last month, Airport Dispatcher Tonya Haigler noticed one of the video screens in the Airport Operations Center had the weather forecast on a local news station. Temperatures were dropping to near-freezing levels.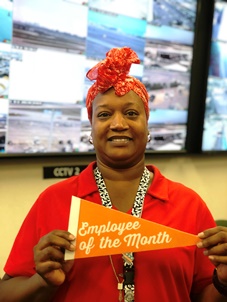 She thought of people she saw from time to time sleeping on benches and behind buildings on her drive to and from work. Then she thought about a stash of blankets at her church.
"I called my friend and said, 'Girl, get dressed, I'm coming to pick you up after I get off work,'" Tonya said.
Tonya and her friend spent the evening driving around town, peering into alleys and slowing down at park benches, looking for shivering people who were grateful when Tonya handed them blankets and food. Tonya still tears up thinking about them.
"They were just so humble and thankful," Tonya said. "I just wanted to help."
Tonya's kind, calm demeanor and eagerness to help has made her an invaluable part of Tampa International Airport's AOC for 21 years. She recently was named the AOC's Employee of the Month after a passenger wrote a letter commending her for her help with a lost and found item, and also for her ideas in helping a fellow employee in need during the holidays.
"Tonya's caring heart and desire to help others extends way past the HCAA workplace," AOC Senior Manager Shannon Boos wrote in a letter announcing Tonya as the Employee of the Month. "She plays a key role in her church and the drive to collect clothing and supplies for those in need."
Tonya and her family moved from Jersey City to Tampa when she was 7 years old and she grew up wanting to be a flight attendant so she could see the world. She graduated from Tampa Bay Tech High School and wound up taking business and word processing courses at Florida College of Business and Hillsborough Community College, where she was valedictorian of her class.
She worked as a word processing operator for the Hillsborough County Department of Corrections for seven years before deciding she wanted a change. She took a position as a digital communications dispatcher at TPA, a place that has become like a second home and family to her. She loves talking and joking around with the police officers and says she considers their safety "as my highest priority."
"I always tell people this is the hardest job that I'll ever love," Tonya said. "It's challenging, it's rewarding and exciting to help people and I love coming in to a clean slate every day. You never know what's going to happen from one day to the next."
Although she never became a flight attendant like she'd imagined as a child, she has taken time to get out and see the world. She has traveled all over the seas in cruises and she recently went to Paris and London with a friend. She has plans to eventually go to Dubai and Africa with a group of family members and friends.
Tonya lives in the University area and is heavily involved as a lead usher and active member of her church, Winners' Worship Center. Right now she's helping the church collect clothing, and in particular, kids' shoes and clothing, men's clothing and business or office attire for men or women.
Employees wanting to donate clothing can contact Tonya or drop items off at Winners' Worship Center at 11605 N. Nebraska Ave. between 9 a.m. and 2 p.m. Tuesday through Friday.