Employee Spotlight - Tony Parriera
(April 6, 2017) The first thing Tony Parreira noticed when he arrived at Tampa International Airport six months ago was how "modern and fresh" everything looked and felt.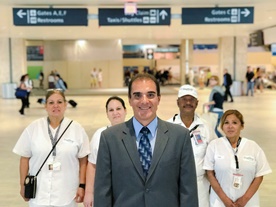 "The landscaping is beautiful, the red and blue coloring throughout," Parreira said. "Everything from the terrazzo floors to the fountains and decorations and the artwork … It just felt like a comfortable environment."
And this meant he had his work cut out for him. As the new site manager for Flagship, which provides janitorial services throughout TPA, Parreira and his team of workers were tasked one of the most important aspects of airport customer service: cleanliness.
The bar was already set high, with TPA consistently maintaining high rankings in appearance and cleanliness on Airport Service Quality surveys and other national and international lists for years. Now, it was up to Parreira to lead the newly hired company – which consists of many employees who have worked at TPA for several years – to continue the legacy as TPA undergoes a major expansion and renovations.
"This is a Class A facility and our goal is to keep everything looking new," Parreira said. "People really notice things like clean bathrooms and clean glass and windows so it's important to maintain those elements around the clock."
Parreira's expertise runs deep, having managed janitorial services for his entire career. He grew up in Rhode Island after his parents moved there from the Azores region in Portugal. He attended Rhode Island College, graduating with a double major in Management and Marketing and a double minor in Spanish and Portugese.
After college, he went straight into janitorial management, overseeing the cleaning operations at Emerald Square Mall in North Attleboro, Mass., which he found he enjoyed quite a bit.
"I love dealing with people and speaking to different people, learning about different cultures," Parreira said.
He also loved music. Parreira played guitar and bass in a rock band that played all over the Northeast at nightclubs, weddings and events throughout the 1980's and '90's. His band even appeared in the wedding reception scene in the movie "Mystic Pizza" starring Julia Roberts.
In 2002, Parreira took his first airport janitorial management job at T.F. Green Airport (PVD) near Providence, R.I., then went on to manage cleaning services at Logan International Airport (BOS) in Boston. In 2015, after he and his wife Margarita found themselves shoveling out of five feet of snow one June, they'd had enough of the North.
On a whim, the couple – whose children were now mostly grown – moved to Florida where Parreira was hired by Flagship Airport Services to work at Orlando International Airport (MCO). This past fall, he had the opportunity to manage janitorial operations at Tampa International Airport and he and Margarita bought a home in New Tampa in November.
Since then, TPA has continued to receive high survey scores and many compliments on the cleanliness of its restrooms and overall facilities. Parreira has loved working with his janitorial team members, many of whom have been cleaning the Airport for decades, and has enjoyed working with the Authority.
"I feel like I'm part of a team," Parreira said. "I don't feel like a contractor working for a client. I really take a lot of pride in this airport and I enjoy coming to work every day."
Parreira loves living close to the Tampa Bay area beaches and loves fishing and traveling. He and Margarita often visit Colombia, where much of her family lives, and other countries all over the world when they get the chance.
He also enjoys visiting and spending time with family. His stepson Andres lives here in Tampa and his son Justin and daughter Kaylee live in Rhode Island. His stepdaughter Leidy also lives in Rhode Island but is getting ready to move to Florida, much to his excitement, with his two favorite little people – grandsons Jayden, 10, and Alex, who is a year and a half old.