Employee Spotlight - Tony D'Aiuto
Airport Operations Center Manager Tony D'Aiuto wasn't looking for recognition when he took a little boy's lost stuffed tiger last month, photographed the toy having adventures throughout the Airport and created a picture book to give back to the boy when he returned from Texas days later with his family. Tony was simply having fun on his lunch break, and doing something thoughtful for one of Tampa International Airport's smallest customers.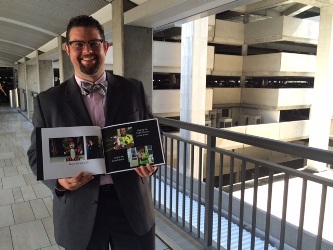 He had no idea his random act of kindness would soon be applauded by millions of people all over the world, from Japan to Germany to Australia. His Facebook page flooded with praise from his friends from around the country, and strangers were calling him a "hero."
Tony insists he's no hero. But when you know a little more about his background, his knack for fun and creative customer service gestures makes perfect sense.
Raised in Tampa as an only child, Tony attended King High School where he served as a marching band captain playing the French horn and played indoor roller hockey after school. He began working as soon as he could, at age 15, and got a job as a busboy at a local German restaurant, where the accordion player would often call him out to the dining room to do the chicken dance for the customers. He happily complied.
At 16, he got a job as a ride operator at Busch Gardens, where he put his own flourish into the safety spiel given to visitors as they climbed aboard Questor and Tidal Wave. Management saw something special in young Tony, and after two years, they promoted him to the guest relations department.
"That's the job that really helped hone my skills in dealing with angry guests," Tony said. "Busch Gardens really empowered us with tools to make a wrong situation right again."
Tony also did some group sales marketing upselling VIP tickets for Busch Gardens while he attended the University of South Florida studying psychology and criminology. He wanted to keep pursuing a career in theme parks and even attended a six-month Disney World College Program to further his experience in the field.
However, while he was working at Disney's Animal Kingdom during the terrorist attacks of Sept. 11, 2001, Tony saw the impact it had on the theme park and travel industry. He watched many of his friends and co-workers lose their jobs or have their hours reduced, which made him rethink his path.
"I thought, 'You know, theme parks are fun, but there will always be a need for public service,'" Tony said.
By the end of 2001, he got a job as a dispatcher for the Temple Terrace Police. He found that his friendly and calm demeanor combined with his experience in theme park guest services worked well in more stressful scenarios as well, and after five years, he attended the police academy and became a Temple Terrace Police Officer. He joined the hostage negotiations team, dealing mostly with barricaded or suicidal suspects, and he was also part of the Honor Guard.
But after about six years as an officer, Tony once again found himself wondering what else was out there. In 2012, he joined TPA's Airport Operations Center, which he has found to be a perfect balance of critical thinking, customer service and creativity.
"The best part about this job is the daily interactions with passengers and employees," Tony said. "Every day is new and interesting."
Tony lives in the Citrus Park area and loves to cook and ride his motorcycle, a hobby he shares with his father. He's also a big games enthusiast and recently attended a huge board game convention in Orlando.
Tony has a tattoo that represents the meaning of his name; a meaning which a stranger also pointed out a few weeks ago when he wrote an e-mail to the Airport to commend Tony on the stuffed tiger tale.
"D'Aiuto" is Italian and it means "to help."