Employee Spotlight - Simon Sanchez
It's about 8 a.m. on a Wednesday and Simon Sanchez is dog tired from working the overnight shift supervising the airport's latest construction.
Of course, you'd hardly know it.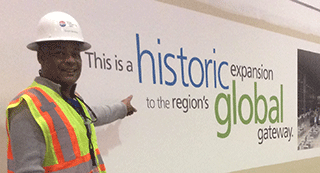 With a big smile and a strong handshake, he greets people in the main terminal as he grabs a seat near Starbucks, radiating energy. He waves at everyone he knows. And he knows a lot of people.
Sanchez is at home in the center of Tampa International Airport's Main Terminal surrounded by many of the projects he has helped become reality over the past 15 years.
As a construction inspector, he has overseen the airport's extensive post-9/11 security enhancements, construction of the economy parking garage, the building of the FAA radar tower, numerous runway and taxiway projects and the airport's two previous major terminal renovations. He claims to know where every line of fiber optic cable is laid at the airport.
But now, he's facing one of his biggest challenges.
Sanchez is a lead inspectors watching over one of the biggest projects in airport's history: The Main Terminal expansion. That project is roughly $98 million in construction.
 "I feel very proud that I was selected to do that kind of work here," he said. "It's something I will take with me as long as I live – that I was part of the biggest renovation here at Tampa Airport."
His official title is senior construction management inspector. In his position, he helps coordinate and oversee all contractor work on the Main Terminal expansion, keeping an eye on safety, quality control and acting as a liaison between the contractor and the Aviation Authority. He helps make sure construction is done correctly, safely and that everyone stays on schedule.
 "My job as an inspector is to make sure that we have a smooth operation when we're done," he said.
Sanchez said he sets high expectations from the outset, instilling in the contractors the airport's strong priority on passenger convenience and satisfaction.
 "I always remind them that the customer is my first priority," he said.
He said that everything he does is to please the customer and to make all parts of the building easily accessible for maintenance in the future. "When we get done building something, we have to be able to fix it."
Sanchez joined the airport team in 2001, when he landed a job in airfield maintenance after working as an electronic technician.
For the first year here, he cut grass, picked up litter and painted the airfield. From there, he moved up to the electrical department and worked with electronics before he was named an inspector. After that, he moved to the maintenance department before he was asked to come back as an inspector to work on the airport's curbside modification project.
He said he loves the sense of community at the airport and being able to look around him and see all of the construction he has been a part of over the years.
This is actually Sanchez' second career.
He spent 16 years in the military, serving as both a paratrooper with the 82nd Airborne Division in the Army and then later in as a member of the 810th Military Police Company. He served in two wars, including the first Iraq war and the war in Bosnia.
Sanchez was born in the Dominican Republic, moving to New York when he was 13. He and his wife moved to Florida in 1986 after taking a vacation here. They now live on a ranch in Seffner with their youngest son, raising cows and horses – quite the change for the self-professed city slicker.
"I had never even seen a chicken until I got to Seffner," he joked.  "I went from a city guy to a country boy."