Employee Spotlight - Shannon Boos
Growing up in the rural farming town of Meadville, Penn., Tampa International Airport Training Specialist Shannon Boos was passionate about two things: horses and dolphins.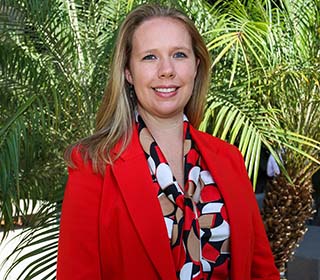 The horses came easy. Shannon, a single child of parents who owned the one restaurant in town and dairy farmer grandparents, showed quarter horses for almost as long as she can remember and loved being a 4H counselor helping children learn to ride and show horses. She went to state and international competitions, worked every summer at training camps and pretty much immersed herself in the horse-riding world until she went away to Slippery Rock University.
There, she intended to study marine biology and finally fulfill her dream of working with dolphins.
"I don't know why I loved dolphins so much," Shannon said. "I think growing up in such a small town with a graduating class of 41 kids, I didn't get to see many parts of the world and dolphins seemed so exotic and intriguing to me."
But Shannon struggled a bit in college, having come from such a tiny school that was K-12 and getting so little exposure to independence. Then the marine biology program at Slippery Rock folded. Then she realized there were no dolphins in Pennsylvania anyway.
So Shannon decided to take the biggest risk of her life. She packed up all of her belongings, including her dog Chancy, into her Pontiac Grand Am and drove from Pennsylvania to Key West.
Her parents were devastated but not surprised. Well, maybe a little surprised.
"My mom always pushed me to be independent, and she taught me that I could be or do anything in life," Shannon said. "I don't think my parents ever thought I would pack up and leave, though."
Once in Key West, Shannon settled into a hotel and was trying to get her bearings when she was pulled over for speeding. The police officer began asking her questions, and when he found out she had no place to live and no job yet, he offered a tip that the Key West Police Department was hiring dispatchers.
"So you're giving me a speeding ticket and a job interview?" Shannon remembers asking the officer.
Soon after, Shannon was working as Key West Police dispatcher, which she loved. She always liked helping people and assisting 911 callers and handling crises came natural to her.
After about a year in Key West, Shannon moved to Hillsborough County, where she worked for the Plant City Police Department as a dispatcher for two years, then took a similar job with the Florida Highway Patrol for eight years.
After more than a decade as a police dispatcher, Shannon was ready for a new challenge. She saw a posting for Airport Operations Center Manager at the Hillsborough County Aviation Authority in an FHP breakroom and got excited.
"I've always been fascinated with airports and always loved flying in and out of Tampa's airport," Shannon said.
She applied and got the job in December 2012, working the midnight shift, and she spearheaded the department's program to train and certify all dispatchers with the Department of Health, a new requirement at the time.  She also earned Civilian of the Quarter.
Shannon loved learning about the airport and working in operations, but now married with a son and stepdaughter, Shannon craved a schedule in which she could spend more time with family. When she learned about the Airport's new Training Specialist position in Human Resources a year and a half ago, it seemed perfect.
Shannon now runs several training programs and has taught hundreds of Authority employees everything from safety to leadership skills. She enjoys helping workers learn to interview and create great resumes so they can move up in their departments, and loves building confidence in shy or self-conscious employees.
"The biggest thing I tell them is don't be afraid to take on something new," she said. "You can overcome anything."
Shannon learned this herself when, two months after taking her position with HR, she was asked to speak at an HCAA Town Hall. Always terrified of public speaking, Shannon "wanted to die" as she got up and spoke to a ballroom of executives and employees about training programs.
She returned to her office after the Town Hall, still shaken up, but she remembers Vice President of Marketing Chris Minner sending her a note afterward, telling her she did great and was a "natural."
"I felt so much better after that," Shannon said. She now speaks to large groups of people almost every day in her job and loves it.
Shannon and her husband, John, live in Plant City with her 10-year-old son Damien and 15-year-old stepdaughter Corrina. They have enough land to raise goats and chickens and grow vegetables in their garden. Shannon also loves cooking and baking, and the family cans their own salsa and spaghetti sauces. She and John love traveling, including to her hometown of Meadville, where they had to drive around a horse and buggy during their last visit.
In what little free time she has, Shannon is working on finally finishing her bachelor's degree at Polk State College in Winter Haven. She is studying Business Administration.
"I let the dolphins go," she said.