Employee Spotlight - Roger Picard
(January 5, 2017) Lt. Roger Picard has a special way with Tampa International Airport's most vulnerable passengers. He holds the hand of the elderly woman who has fallen on the way to catch her plane. He lets the nervous little boy, flying for his first time, ring the bell on his paramedic bicycle. He stays calm for the woman with chest pains and soothes the frantic parent of a child who slipped and bumped her head. He calls family members waiting on the other side of the flight, letting them know what happened to their loved ones and what to expect once they arrive.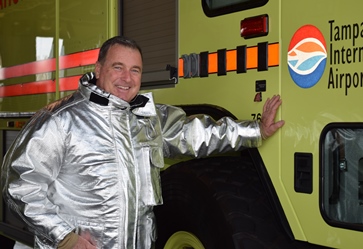 "I look at every person like he or she is a family member," Picard said. "If this were my grandmother and she fell and was scared, I would hold her hand and reassure her everything was going to be okay."
And he's sincere about it. Picard has loved every day of being a Tampa International Airport Fire Rescue paramedic, ever since arriving nearly 23 years ago. He likes that there's an extra customer service aspect to being an airport medic that you don't necessarily see with other fire rescue jobs. He's enjoyed watching TPA grow, change and develop over the years, including now as the Airport undergoes a historic expansion to add more buildings, people and vehicles for the fire rescue staff to cover.
Picard goes to work with his black lab K-9 search and rescue dogs, Pilot and Party Girl, who are FEMA-certified and trained to sniff out survivors in wreckage or collapsed buildings. Party Girl is 9 years old and slowing down, in two years of remission after a cancer scare. Pilot is a 3-year-old bouncing ball of energy, pulling his handler by the leash, eager to get out and explore the world every day. They are his fourth, fifth and last service dogs, he said, as he is nearing the end of a long and wonderful career.
With dreams of becoming a doctor, Picard realized early into his college studies that the workload and academic expectations might be a bit much for him. He wound up attending community college in southern California, then went to paramedic school, which he loved. He enjoyed working with people, administering first aid and learning how to save lives, and he knew he'd found his calling. He found himself working in his first internship with the Los Angeles Fire Department – an eye-opener for a kid with no hands-on experience – and then got his first job with a small fire station in the Palm Springs area.
He and his wife often visited relatives in the Tampa Bay area and decided in the mid-90s to move here after Picard found a job with Tampa Fire Rescue. Picard became part of the area's first urban search and rescue squad and got his first dog, a yellow lab named Jessie that he found in the newspaper classified ads and had to train himself.
Two months after he took Jessie to get certified by FEMA, Picard got his first search and rescue call. The World Trade Center towers had collapsed after terrorists flew planes into them and several hundreds of people were inside. He was deployed for 16 days to New York City, where and he and K-9 Jessie spent seven of those days at the site working in the South Tower. It was an experience that was both haunting and heartening as he watched New York City residents come together to help one another during the crisis. Having Jessie's companionship and seeing her enthusiasm for working, he said, is what kept him going every morning during that time.
Since then, Picard has helped with K-9 search and rescue missions all over the country, including Hurricanes Katrina and Charley, and he was deployed to Haiti to assist with earthquake recovery. He has been through a few dogs, most of which come from the same kennel in Maine and have been trained to find live survivors.
While he likes doing such important work at disaster sites, Picard is happiest doing his day-to-day duties at TPA, where he helped launch he bike paramedics program last year.
"It's a privilege to come out here, get on a truck and go out and help people," Picard said. "I try to treat everyone with respect and compassion and the Airport helps me do that."
Picard lives with his wife, a nurse, in Oldsmar and they have two grown sons, one of whom is expecting Picard's first granddaughter in March. Picard, who is as fit as ever at almost 60 years old, is an avid cycler. He recently registered for an upcoming 35-mile off-road bike challenge.