Employee Spotlight - Robert Rinehart
(January 19, 2017) Growing up, Traffic Manager Robert Rinehart had his sights set on becoming a professional baseball player. The Tampa native was an ace player at Robinson High and after graduating, he tried out for the minor league Tampa Tarpons, a Cincinnati Reds farm team.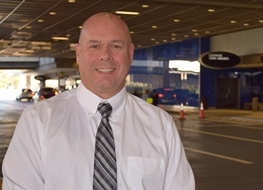 "That's when I found out how much better other players around the country were than me," Rinehart said. "So I re-evaluated."
He joined the Army at age 20, still craving a career that required physical ability and discipline, and found his calling with the 82nd Airborne Division specializing parachute assault operations and other missions. He dropped out of planes all over the world and moved with his high school sweetheart wife Alicia and daughter Koren all around the country, including stints in North Carolina, South Carolina, Hawaii and Texas.
When Rinehart moved to Wisconsin, having spent 25 years as a military paratrooper and having trained and led hundreds of soldiers throughout his career, he retired and moved back to where he and Alicia began: South Tampa.
Still wanting to work and stay busy, Rinehart looked for another job, though "when you've spent your whole career as an infantryman, that doesn't really translate well on the outside," he said. "There's no real civilian counterpart to being a paratrooper."
He set his sights on a city or county job, preferably in law enforcement, and saw an opening for a Traffic Supervisor at Tampa International Airport.
"I thought, 'That's kind of interesting,'" Rinehart said. "It's not the norm when you think of law enforcement jobs."
While he wasn't looking to supervise others, having managed large groups of soldiers for so many years, he found his new role leading traffic specialists at TPA to be fun, challenging and rewarding in ways he hadn't imagined. He found an opportunity to help shape the TPA curbside culture into one that was not only about regulating vehicle movement and enforcing rules, but about leaving a first and last impression– literally, in most cases – of the Tampa Bay area as guests arrive and depart.
"We come into contact with tens of thousands of people monthly, and whether it's grabbing someone's luggage or spotting someone who looks lost and walking up to help them, we put a lot of personal care into our jobs that people really appreciate," Rinhart said. "Having that human interaction puts a different face on an airport."
Now as Traffic Manager, Rinehart oversees a staff of nearly 60, and he helps them balance their jobs of being enforcers and airport ambassadors by doing roll call debriefs where the traffic specialists get to talk about any frustrations or funny stories they encountered the day before. At the end of the day, Rinehart said, it's important for the traffic workers to have a sense of humor and to be able to go home and enjoy their families and time away from work.
The traffic specialists are encouraged to first and foremost direct vehicles, but whenever possible, look for ways to be helpful and kind. Whether it's giving detailed directions to the Convention Center or radioing others to get suggestions for a guest asking about the best Asian market in Tampa, taking that extra step to ensure visitors have a great experience is part of the job.
The change in the way traffic specialists and supervisors interact with customers has not gone unnoticed. The department has received far more compliments and kudos than complaints in the last two years, a great feat considering the construction challenges and TPA passenger growth drivers have faced during that time.
"We've seen the change as our compliments have doubled," Rinehart said. "Being more customer-focused has made a real difference."
Rinehart's free time lately has simply been enjoying being in one place with his wife and 24-year-old daughter, whom he spent so many years away from during deployments and military training. He plays softball pick-up games and coaches T-ball, and he and Alicia like to go to different spots around the Tampa Bay area such as downtown's Riverwalk, St. Petersburg and events like Gasparilla.
Rinehart feels like he has finally settled down in a place he loves and is proud of his hometown. He enjoys being in a position where he can help snowbirds, first-time visitors and international guests love it too.