Employee Spotlight - Rob Connelly
If you work or spend a lot of time at Tampa International Airport, you'll most likely encounter the work of Graphic Designer Rob Connelly several times a day. From the construction walls to the Friday Flight flyers to the Airport's new LEAF logo spotted in electric vehicle charging station parking spots, Rob's designs help create a friendly and fun atmosphere while delivering important information at the same time.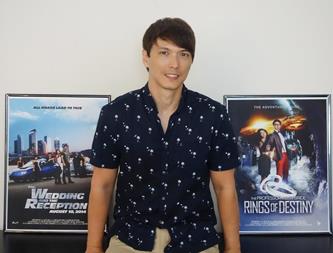 Rob is a key part of the Marketing department's Brand Management team, which has spent the last several months creating and standardizing TPA's brand, now in its rollout phase. Through consistent design elements, logos, messaging and images, the brand standards will be an important part of TPA's identity as it grows and develops over the next several years.
It's also one of the most exciting points of Rob's career so far, and he's eager to work with various departments to help get everyone on board with the same look, feel and message for the 44-year-old airport.
"It'll be really nice to get everything under one umbrella," Rob said. "I've worked places in the past that already had a brand, so this is the first time I've seen this type of project from the ground up."
It also makes Rob happy that he stayed in a field he nearly gave up on a couple of times.
Rob grew up in Hernando County's Ridge Manor after moving quite a bit early in his childhood. His father was in the Air Force and met his mother in Korea, and the family moved from South Dakota to Korea to California before settling in his father's home state of Florida. Rob attended Hernando High and always loved art and design, participating in the school's drafting and architecture program.
Rob went to a state university (one he prefers not to name, though it rhymes with Schmorida Schmate), intending to study architecture before realizing how expensive architectural graduate degrees were. He switched to art and design, focusing on digital and computer graphics.
However, right as Rob graduated, the economy took a nasty turn due to the Sept. 11 attacks and hardly anyone seemed to be hiring in creative fields.
"I had to move back home with my parents," Rob said. "And for the next six or seven months, I lounged around, contemplated life, and watched the movie Speed 145 times."
Rob reached out to various companies, asking if they needed a designer fresh out of college. He got a lot of "not right nows" and "not interested" and even had a woman yell at him for bothering the staff while they were in a meeting.
After six or seven months, a small design firm in Lakeland hired him and he commuted daily from Hernando County to Polk County, working as the sole designer on real estate publications.
After a year there, he went to work for Verizon in St. Petersburg, commuting 70 miles each way for a better opportunity. He worked in the publications department designing local advertisements and direct mailers, which he enjoyed, especially after he moved to Tampa to cut down on the commute. But after six years, Verizon decided to outsource his department overseas, and Rob found himself out of work again.
After some adventures in unemployment, Rob began to wonder if graphic design was worth it anymore. As much as he enjoyed it, he needed to make money and decided it was time to start a new chapter. He applied for a teaching job in Korea.
"I had all my paperwork done and I was ready to go," Rob said.
And then he got a call from Bay News 9, where he had applied and interviewed a month earlier. The news station offered him a job designing news graphics, backdrops, animated features and other fun projects
While he loved Bay News 9, he knew after two years that he needed to move to a bigger organization to grow his skills. He saw the graphic designer opening with the Hillsborough County Aviation Authority and applied.
Rob began working at TPA in February 2014 and has loved the variety and creativity that comes with designing for an airport undergoing major growth and changes. From the digital display boards to the advertisements, brochures and signage, Rob gets to put his artistic touch on every aspect of TPA's historic expansion and new initiatives by all departments.
He also took over TPA's Instagram growing account, posting cool photos and messages from the Airport and gaining more than a thousand followers in less than a year.
Rob is coming up on his one-year anniversary to his wife, Ginny, whom he met at the Korean church he attends. The two like to travel and hope to go to Korea next year. For their wedding, Rob used his design skills to create movie poster spoofs of films such as "Fast and Furious" and "Doctor Who," starring himself and Ginny. He enjoys comic books and drives a Subaru.