Employee Spotlight - Rion Russell
(August 3, 2017) In Rion Russell's office on the 2nd floor of the Long Term Parking Garage, there are no family photos, no mementos, no signs of what a passionate Kansas City Royals fan he is. The Hertz Rent-A-Car General Manager is not used to putting down roots and personalizing his office, having moved through six airports around the U.S. in the 13 years he's worked for Hertz.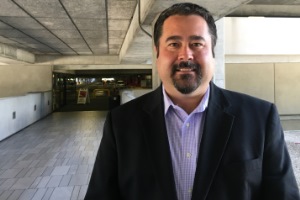 Russell assures he is at Tampa International Airport to stay, though. The Hertz General Manager has actually been here since March of 2014 and after spending most of his life in the Midwest, has fallen in love with the Tampa Bay area. His wife and four sons feel the same.
"My wife and I have several siblings between us and our families all still live in Kansas," Russell said. "It was somewhat terrifying to pick up and move all the way down here to Florida, but now we're obsessed. My wife will never leave."
Russell grew up in Kansas City and had his sights on becoming a pastor when he grew up. He studied social work and family studies at Kansas State University, but after getting a job at Hertz straight out of college, he became interested in the business side of rental car operations and got his MBA at Friends University, a private college in Wichita.
Russell worked for Hertz in Oklahoma City, Kansas City and Wichita before becoming an area manager at the Madison airport in Wisconsin, then moved on to a much larger market at the Chicago Midway airport. While there, he was asked how he felt about moving to Florida. Soon, he and his family were looking for homes in the Riverview area.
Russell took over as the Hertz general manager, overseeing operations at TPA as well as the St. Pete-Clearwater and Sarasota airports. He said he's never seen such attention to customer service and communication between the Aviation Authority and the rental car companies quite like he's seen at TPA.
"Tampa Airport has really raises the bar in what they expect from us, and they demand so much more than what I've seen at other airports," Russell said. "Rental car companies tend to be an afterthought at most airports and this feels like more of a partnership with the Authority."
Russell is especially excited to see the completion of TPA's consolidated rental car facility coming soon, having worked in one at Chicago Midway.
"Customers may not realize how much this streamlines the process when you have your fleet and car wash and operations all in one place," Russell said. "For us, the ConRAC will drastically improve speed and efficiency, and that comes down to a great experience for the customer."
Russell and his wife, Hope, enjoy taking trips to Disney World and other theme parks, and they spend a lot of time in their pool at their Riverview home or at the many baseball practices and games for their sons, 12-year-old Luke, 10-year-old Jacob and two 8-year-old twins, Levi and Joseph.
The six also love the Royals and sometimes fly back to Kansas City to reconnect with family and friends