Employee Spotlight - Rick Woodward
As one of the front-line supervisors overseeing Tampa International Airport's elaborate in-line baggage system, Maintenance Repair Leader Rick Woodward spends a lot of time solving puzzles. It could be a jammed mechanical part, or an electronic issue, or even a rolling Corona bottle that fell out of someone's bag.
"One little thing can have the whole system backed up to the ticket counter," Woodward said. "We stay busy. To say that there's never a dull day would be an understatement."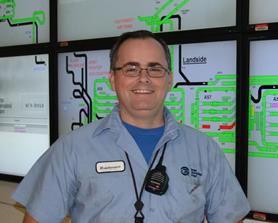 Woodward is relatively new to TPA, having joined the airport in April as an Automated Devices Mechanic and moving up to a supervisor role in late June. He came here with quite a bit of electronics and mechanical experience that date back to a young age.
Born and raised in Omaha, Neb., Woodward had a "rough and tumble childhood" as the youngest of four boys. His father was a maintenance engineer for a hospital and his mother worked for the insurance giant, Mutual of Omaha, and the apples didn't fall far from the tree. Woodward's oldest brother is now a journeyman electrician, another is a union iron worker and one is an insurance claims adjuster.
Woodward was involved in ROTC and marksmanship activities as a teenager, then graduated from high school and just "went cruising around on the weekends," hanging out with his buddies while he figured out what to do next. He also met Kristi, whom he married in nearby Council Bluffs, Iowa, after a year of dating.
After joining the Air Force and spending seven years living in Japan, Saudi Arabia and California working as an avionics technician, Woodward moved back to Omaha with his wife and got a job working for the City of Council Bluffs working on street lights and traffic signals. He loved the job, which was fun and taught him a lot about new and evolving technology. After five years, he figured it was a good place to stay until he retires one day.
"I thought I'd be cruising into the sunset with this job," Woodward said.
But life – or more specifically, his wife – had different plans. In 2011, Kristi took a job with the Ardent Mills flour mill in Channelside and Woodward and their two children followed. Florida was a big change, especially for Woodward, though the family looked forward to warmer weather and theme parks.
Woodward initially took a job with Pasco County's utilities department and then went to work for the Hillsborough County utilities department, working electronics and controls at a wastewater plant.
"Some guys there said you get used to the smell," Woodward said. "I never did."
Hearing great things about Tampa International Airport, Woodward applied for a maintenance job with the Authority earlier this year and was happy to land here in the spring. He said he finds the baggage system and inner workings of an airport interesting and fun, and he rose quickly to Maintenance Repair Leader because of his experience with solving mechanical issues and working with other maintenance teams over the years.
Woodward hopes to eventually take advantage of the Authority's tuition reimbursement program and get his bachelor's degree in either business administration or management information systems.
Woodward lives in Land O'Lakes with Kristi and their two daughters, 15-year-old Caitlyn and 17-year-old Megan. The family likes to take day trips together, particularly to Tampa and Orlando's theme parks, where they love to try out all the roller coasters.