Employee Spotlight - Officer Jimmie Bizzle
(December 20, 2018) As a Florida kid growing up in the '70s, Jimmie Bizzle loved watching police characters on shows like Adam-12, CHiPs and T.J. Hooker.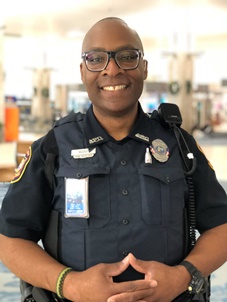 "Back then, all they had was their car, gun, handcuffs and conversation," Bizzle said. "Law enforcement was about getting out there and talking to people."
Now an officer himself with the Tampa International Airport Police Department, Bizzle loves interacting with guests, helping passengers and showing people the more humanitarian side of law enforcement. Recently he saw a traveling mother struggling with two kids and three bags on her way to an Airside F gate and he approached her, offering to carry the bags to the gate with her. The woman seemed surprised but relieved and thankful for the help.
"People see a weapon and uniform and don't expect you to be friendly," Bizzle said. "I like being engaged with the community, and that's what officers should be doing in addition to keeping people safe."
Bizzle's warm and helpful gestures go beyond his work at the Airport. In his spare time, he works closely with the Tampa-Hillsborough Homeless Initiative to help bring food, clothing and other resources to the community's homeless population and has also helped with annual homeless census counts on the street. He also mentors at-risk teens and youth through Derrick Brooks Charities.
Recently, Bizzle and other members of the Police Department helped the Tampa-Hillsborough Homeless Initiative raise more than $1,000 which he and other members of the group spent at Walmart buying blankets, warm clothes and undergarments to be distributed to homeless men, women and children.
"That was a huge success," Bizzle said.
Bizzle comes by his caregiving streak honestly. Growing up in the small town of Bartow, he would often go along with his mother on her Meals on Wheels routes, where she would sit and talk or listen to elderly and disabled people happy to have the company. Along with his two biological sisters, he always had a home full of children his mother fostered whom he still considers his brothers and sisters.
After high school, Bizzle became a police officer with the Bartow Police Department, where he spent six years, then then another three years with Lake Wales Police Department. In 2010, he got married and moved to Tampa where he joined the Tampa Airport Police Department. He's been named Officer of the Quarter and has been awarded the Chief's Achievement Award for his work with the homeless.
The switch from being an officer on the street to being an officer in an airport was a big change, but once he learned the airport lingo and got used to being surrounded by people at every step, he grew to love the environment.
"I love all the interaction," Bizzle said. "I'm a talker. I never met a stranger. I like that TPA is somewhere we can show people the friendlier side of law enforcement."
He credits Chief Charlie Vasquez for getting officers more exposure and opportunities to work with the community, supporting initiatives such as the newly launched Citizens Academy and Coffee with a Cop. 
Bizzle lives with his wife, Ursula, and has a 7-year-old daughter, Jamison. In his rare free time, he loves working in the yard, landscaping and keeping his lawn neat. He also likes to watch cooking shows and hopes to eventually travel to places like Italy and Puerto Rico, known for great cuisine.