Employee Spotlight - Norm Perry
A Tampa native with a curious nature, Norm Perry never really knew what he wanted to be when he grew up. Sometimes, he still doesn't know.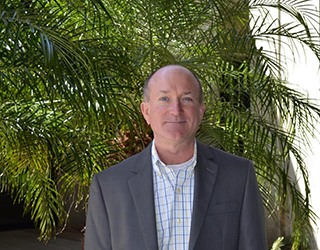 His father, a Korean War vet, managed radar installations and had a TV repair shop, using his technical knowledge to eventually work with some of the world's first and very cumbersome computers. His mother was an interior designer. Norm inherited interests from both parents and always had a fascination with technology while sharing a deep appreciation for the arts, dabbling in sculpting, model building, calligraphy, oil painting, "everything except watercolor," he said.
His winding career path, after a little trial and error, eventually led to Tampa International Airport, where he has worked for 16 years and now serves as the Manager of the Project Management Office for the IT Department. His ability to solve problems, think creatively and evolve processes has made him an invaluable leader of a team responsible for bringing the Hillsborough County Aviation Authority into a more paperless, high-tech environment.
"It's a really exciting time to be here," Norm said. "(CEO) Joe Lopano wants this airport to have the best advantages in technology and give the work force the best tools to get the job done. It's already making a difference."
Having been born and raised in Tampa, Norm has a fondness for the airport that dates back to the days when you could watch planes from the ground and feel the blast from the engines as they departed from the old terminal. He loved flying as a child, always visiting the pilots in the cockpit and getting the little wings to pin onto his shirt.
After he graduated from Tampa Bay Technical High School, Norm decided to go into the air conditioning business but decided pretty quickly it wasn't for him. He then took some architectural classes and went to work for a prestigious architectural firm in Hyde Park, thinking he'd be able to do home design renderings.
"I found myself drawing engineering instructional details of walls, and I was like, 'Wait a minute,'" Norm said. He went to Hillsborough Community College to study liberal arts while he figured out what to do next.
He eventually landed at the now-closed Color Corporation of America, not far from the airport, where he worked for 18 years. The company made commercial and industrial signs for various corporations and agencies, including directional signs for Tampa International Airport, back before there was digital imaging and everything was done photographically and on backlit displays.
Norm convinced Color Corporation to get him the company's first personal computer, making it easier to keep track of data, which was all being done on manual spreadsheets at the time. He also became somewhat of an expert at Oracle, which is how he came to be recruited at the airport as a software specialist in 1999.
Now Norm oversees a variety of exciting IT projects at TPA, including the recent redesign and launch of the airport's new website and the SIDA training system replacement in addition to assisting with the upcoming upgrades that will impact HR, payroll, finance and other processes to make them more efficient.
Norm lives with his wife of 33 years, June, whom he has known since they were children. They have a 23-year-old daughter named Virginia, a miniature greyhound named Keswick and a Siamese cat named Samantha.
Norm and June like to indulge in gourmet cooking and hike, and they plan to visit the Colorado mountains this summer. Norm also loves gardening, having had his own greenhouse when he was a kid, and he always dreamed of doing horticultural landscaping. He still indulges in art projects and used to run the local Book Arts Guild. He rarely runs out of hobbies.
"I know a little bit," he said, "about a lot of things."