Employee Spotlight - Mike Vizcarrondo
(July 7, 2016) Mike Vizcarrondo's journey in the construction industry began when he started selling construction materials in his 20s.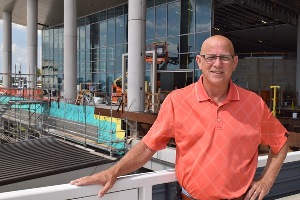 He didn't realize that it was the beginning of an incredible career.  He became respected in the field, leading him to a long, winding three-decade career that eventually landed him at Tampa International Airport as a Senior Construction Inspector.
Born in Fernandina Beach on Amelia Island, Mike was raised along with his three brothers by his father, who worked for a paper mill, his mother, an accountant and bookkeeper.  The family moved to Atlanta when he was 10 and returned to Florida at 17.
Mike attended Florida State University, where he earned a Bachelor's degree in business administration. He put himself through college by waiting tables at Steak & Ale.  By doing that he was naturally drawn to the hospitality industry and managed a restaurant for two years.  His aptitude for customer relations lent itself perfectly to the first chapter of his construction career in material sales.
Several years later, he was approached by a construction material manufacturer who asked him to run their Florida sales operations, which required him to travel throughout the state.  As the father of young children, he yearned to be home more and entered the general contracting business, doing structural concrete restoration and waterproofing.  He left the construction side of the industry when he had the opportunity to join Gresham, Smith and Partners, a building design firm.
Mike's relationship with TPA began with his seven years at GS&P where he did construction administration.  In his role with GS&P he managed the Airport's Economy Parking Garage, Main Terminal Modernization, New Baggage System, Baggage Level Modernization and the Rental Car Expansion projects.
When TPA embarked on its historical expansion project, Mike seemed like a natural fit as a Senior Construction Inspector, having already worked with Vice President of Facilities and Administration Al Illustrato, Assistant VP of Planning & Development Jeff Siddle and several others on the P&D staff. His extensive experience made him exceptionally qualified for his role with Planning and Development.
"I've been involved in all aspects of the construction industry from product sales to client representation," Mike said.
Mike joined TPA two-and-a-half years ago and intends to remain here for the rest of his career.
"I love my job and the airport and have no desire to do anything else," Mike said. "The people here are tremendous. I love working for Al, Jeff and Director of Construction John Mallory. I am honored to be part of a team with the vision to develop a world class airport facility in a timely and cost effective manner."
As a Senior Construction Inspector, Mike's job is to ensure projects are being built according to the contract documents and to make sure the work is coordinated in a way that doesn't impact tenants and passengers.
Mike lives in South Tampa with his wife Laurie.  Laurie operates their deli, which is in one of the Austin Center buildings on Westshore Boulevard. The two are getting ready to watch their youngest of five children head off to The University of Central Florida on a National ROTC scholarship.
Mike and Laurie have spent most of their married life watching their children – now ages 18 to 33 – playing softball and baseball. They were fully involved in the youth sports community, only taking time to travel if they were following one of their kids' teams.
"It's definitely going to be a gigantic void now that our youngest, Matthew, is leaving for college," Mike said. "We'll probably still be at the Little League Park and the high school watching baseball and softball games."