Employee Spotlight - Melissa Solberg
As a champion of green building initiatives and environmental consciousness, Melissa Solberg is the perfect fit as Tampa International Airport's new Sustainability Manager. Her experience and expertise in the field, however, happened somewhat serendipitously, beginning with an internship 15 years ago.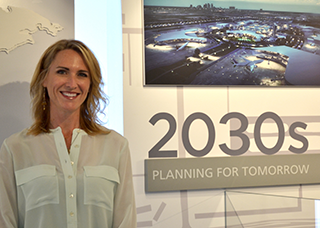 "Looking back, it seems like I was always lucky enough to be in the right place at the right time," Melissa said.
While in graduate school studying architecture at the Illinois Institute of Technology, she had an internship with a large architectural firm in Chicago, but knew little about the work she would be doing there until she arrived on the first day. She spent the summer researching green building and design standards and Leadership in Energy & Environmental Design (LEED) practices, which were still a fairly new concept at the time.
"I love learning new things, and this was something that captured my interest from the onset," she said.
After graduate school, Melissa went back to her home state of Michigan, where she married her husband Scott. She landed a job with Ford Land, the real estate subsidiary of Ford Motor Company.  During her interview, their leadership asked, "Do you know anything about LEED?" It just so happened that she did, thanks to her graduate school internship. Over time she became the go-to sustainability person and worked on five LEED-certified facilities with Ford Land. She also worked with Ford Land's architectural, engineering and construction partners to incorporate green building design and construction practices into their projects.  She worked on the branding program implementation for Lincoln Mercury dealerships, did strategic space planning for corporate and commercial facilities along with several other positions in her seven years there.
"Sustainability wasn't ever my full-time job at Ford Land,'" Melissa said. "It just became my niche that I built into my everyday work."
After seven years, Melissa garnered enough sustainability experience to venture out on her own as a LEED consultant. She left Ford Land around the same time her daughter was starting kindergarten and her son was 3, and she enjoyed working from home where she managed projects around the world, including one in China.
Her family moved to Sarasota four years ago when her husband transferred to his commercial real estate firm's Florida office, and she continued to work from home for a few years until she spotted a job posting for a Sustainability Manager position at Tampa International Airport and thought it looked perfect. She was thrilled when she met the TPA staff during her interview process and found the Airport's commitment to sustainability surprising and refreshing. She began her new position in March.
Melissa has an interesting and unconventional family tie to aviation, displayed as a framed photo on her desk. Her paternal grandfather also once worked for Ford Motor Company – along with father, and her maternal grandparents.  In 1932 when he was 18 years old, he built an airplane using an inverted Ford Model T engine. In 10-degree weather, Lloyd Solberg piloted the plane from a Fargo farm to the Fargo airport, a short distance but a great feat for the young mechanic whose formal education ended after completing 10th grade.
Melissa has a passion for traveling and studied abroad in France while still in high school, then in London while getting her undergrad degree at Michigan State, then a full term while working as a grad assistant in London, Paris, Barcelona and Montepulciano, Italy.   She and her husband were engaged while skiing in the Swiss Alps and they took their daughter Ella to Paris when she was just 8 months old. Ella and their son James have been on skis since they were 4 and 2 years old and have taken family ski trips to Utah since moving to Florida.
With their children now 13 and 11, Melissa and Scott like to do a lot of family sports together, and most recently got into sporting clays. The six-foot mom describes herself as "CrossFit junkie" and was always involved in sports growing up. She played on her high school golf team and rowed on the intramural team at MSU for 2 years. The family has a German shorthaired pointer dog named Blue and a rescued blind, deaf and mute miniature poodle named Pierre.
In her role at the Airport, Melissa is managing TPA's Sustainable Management Program, branded as Legacy of Environmental Actions for our Future, or LEAF. Employees and airport guests will start seeing the LEAF logo more and more throughout the Airport, from electric vehicle charging stations to recycling containers to "no-waste zones" and green building features as the Airport expands.
Melissa is also working to document sustainability programs already in place, such as the Employee Wellness Program and recycling programs, and developing a progress measurement system.
"I'm excited to see how many people here already embrace these programs and to see how ingrained it is," Melissa said. "It's fantastic."
She said even things like adding recycling bins to the Employee BBQ and Runway 5K made a difference, and a fellow employee mentioned that they needed more recycling in the Executive Suite kitchen, so they put bins there, too.
"I'm a firm believer that even a small change can have a big impact," Melissa said. "We all have the ability to make a difference."