Employee Spotlight - MaryEllen Lee
(July 5, 2017) Growing up in Tampa with her parents and eight siblings, MaryEllen Lee dreamed of one day being a flight attendant. But there were stringent requirements for stewardesses at the time and she was too short to make the cut.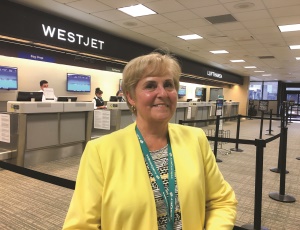 Several decades and many, many industry changes later, MaryEllen finds herself 30 years deep into a career in aviation after all – no height requirement needed. As a manager for Eulen America, which operates baggage handling and other services for WestJet, American and Eastern airlines, Mary Ellen has works closely with the Hillsborough County Aviation Authority to provide high quality customer care and efficient service.
It's a job she still enjoys returning to every day, mainly because of the familiar faces and the relationships she has formed over the past three decades.
"I've visited and worked with several different airports throughout my time here, and I have to say, the group of people here at the Aviation Authority are the best," MaryEllen said. "Any time I call Danny Glennon or Eleanor Robichaud or anyone in operations or maintenance for help with something, I know they're going to be right on it. It's not so much the work I love – it's the people."
MaryEllen grew up in the central Tampa area, attending what was then Brewster Vocational High School, and worked for many years in the banking industry. After one bank merger after another in the 1980s, MaryEllen decided she was ready for a change. She read about some job openings at Easter Airlines and showed up to apply. When she walked into the job fair, though, she saw 2,000 people waiting in lines to be interviewed.
"I thought, 'I'm not doing this,'" MaryEllen recalled. She had to pick up her daughter from kindergarten so she found an application, filled it out and handed it to someone, thinking she'd never hear anything back.
Even when Eastern Airlines called to offer her a job, she thought it was her sister playing a prank. She played along sarcastically before realizing she was, in fact, on the phone with an Eastern representative. She began working at TPA as an administrative assistant to the Eastern station manager shortly after that call.
Since then, MaryEllen has survived many airline industry changes, including the end of Eastern in 1991, which she remembers as being "very emotional." She was out of work for most of a year when she landed a job back at TPA with America West, the four years later as a supervisor for Cayman Airways, then for Aircraft Service International Group (ASIG) when Cayman began outsourcing its ground handling services, then Eulen. She has been with Eulen for the past seven years.
MaryEllen said she has seen a lot of changes at TPA and in the aviation industry over the years, the biggest being the tightened security after 9/11. She remembers taking her children and grandchildren on the TPA shuttles and allowing guests to greet passengers at the jet bridge, sometimes even boarding the plane to greet.
MaryEllen and her husband, Bob, live in Odessa on a lake, where they've enjoyed water skiing and boating. MaryEllen's three daughters still live in Florida, as well as her stepson and stepdaughter, and between her and her husband, they have nine grandchildren and three great-grandchildren.
MaryEllen and Bob love to travel when they can. They've been all over the country and world and are planning a trip to Italy in the fall.