Employee Spotlight - Luis Flores
(October 19, 2017) Last month, during the week that most of the Tampa Bay area was preparing for Hurricane Irma, an 81-year-old man walked up to Tampa International Airport Police Officer Luis Flores. He thought he was supposed to board a flight, only to find out he had the wrong date. He was stranded at TPA after he was dropped off by a friend who borrowed his car. He had no phone and no wallet, having left those in the car.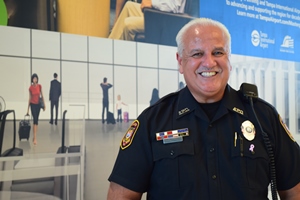 Flores helped him call a SuperShuttle to get an estimate on how much it would take to go back to his Sarasota home. It was $65. The man had no money. Without hesitating, Flores paid for the fare and told the man not to repay him but to pay it forward to a person in need.
"I'm 81 years old and never in my life have I experienced such kindness," the man later wrote in a handwritten letter to the Police Department. "I've told all of my friends and relatives about this experience and they all marveled at Officer Flores' charity."
Flores was happy to have helped the man but he shies at the suggestion that he went above and beyond that day.
"The thing is, most of my fellow officers would have done the same thing," Flores said. "We went into this line of work because we like to help people. We do stuff like this all the time."
Flores remembers the moment he first considered becoming a police officer. The youngest of six kids growing up in Brooklyn, he took a subway to school and one day saw a "wolfpack" of muggers attacking a man. No one was helping. Thin but tall, Flores yelled, "Police!" which startled the pack who stopped the attack and ran off.
"I felt like no one took the initiative any more to help victims of crime," Flores said.
After finishing high school, he began his law enforcement training and joined the New York Police Department where he had a 20-year career, much of it on a task force that worked on reducing crime patterns in the worst areas of the city.
Flores married and had two children and thought he would continue raising his family in New York. But like many who lived through the trauma of the terrorist attacks of 9/11, his thinking shifted. He was part of the search and rescue – and later, search and recovery – team that sifted through the rubble, and he lost a good friend and a supervisor in the attacks. In 2003, he decided to move his family somewhere that felt like less of a target, and with his wife craving warm weather, he settled on Tampa.
A few years into retirement, Flores realized he missed being in law enforcement. He joined the TIAPD in 2006 and has loved helping Airport guests and passengers ever since.
"I don't get as much satisfaction from making arrests or catching bad guys as I do taking care of victims," Flores said. "It could be something as small as recovering a lost camera. Maybe that camera isn't worth much, but to the person who has memories in that camera, it means a lot."
Flores lives in the Land O'Lakes area, where he likes to spend time unwinding with his wife of 24 years, Yolanda. He has three grown children – 19-year-old Daniel, 21-year-old Dana and 30-year-old Luis Jr. – and they joke that he and Yolanda are like teenagers in love.
Flores and Yolanda often frequent St. Pete Beach, where they dine, drink and dance. Flores also loves music and does his own mixing and DJ work to entertain guests at friend and family events.
While Flores is at the age when many law enforcement officers retire, he doesn't see himself slowing down any time soon.
"I love what I do," Flores said. "And I feel blessed to be able to do it."