Employee Spotlight - Lisa Assetta
(May 18, 2017) As a young, single mother of a 4-year-old daughter with only some college studies behind her and a little work experience, Lisa Assetta was on her own and desperate for a job. She heard about a secretary position at a water softener company in the small town of Ashland, Ohio, and finagled her way into an interview, where she had to practically beg for the chance to prove herself.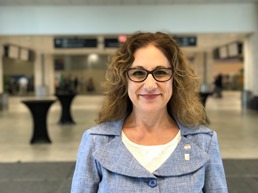 Her boss took a chance by hiring her and Lisa poured herself into every task, from assembling catalog pages one-by-one to screwing tops on tiny bottles in the water softener lab and packing them neatly into boxes to typing invoices on a typewriter. After a few years, Lisa had mastered every secretarial challenge thrown her way at the company and began looking for her next step.
"I just thought, 'Well, it's time to move on, and I guess I'm a secretary now,'" Lisa recalled.
Lisa never thought of herself as "just a secretary," though, and continued to build on her career, using her passion for customer service, organization, reusing and recycling and improving workflow with every opportunity that came her way. She worked as an administrative assistant for a small psychological test publishing firm in Odessa, as an executive coordinator to the President and CEO of Checkers Drive-In Restaurants and a senior executive assistant at Bloomin' Brands, which owns Outback and Carrabba's restaurants. She even owned her own consulting company, providing administrative support and organizing services for businesses owners and offices for a couple of years.
Now, thirty years after begging for that first secretary job, Lisa is the Senior Executive Assistant to Tampa International Airport CEO Joe Lopano during one of the most busy, exciting and important times in the history of the Airport. She handles the critical tasks of managing Lopano's jam-packed calendar of appointments, speaking engagements and meetings with everyone from the HCAA Board members to the President of the United States.
She also aims to keep Lopano and other TPA executives organized, focused and free of distractions, which is no easy feat with the many projects going on at TPA these days. Lisa said she's most proud to work for an institution that means so much to the community and makes an impact on the regional economy and people's lives.
"I'm such a fan of how this Master Plan project has put so many people and local and minority-owned businesses to work," Lisa said. "Mr. Lopano is absolutely the visionary for this organization and it's an honor to assist him in any way I can. It's a great team we have here and everyone is always trying to improve systems and processes to make things better for our passengers and our community."
Lisa often uses her entrepreneurial spirit to find ways to improve office life for Authority employees and carry out her ideas in making the Airport more sustainable, healthy and green. Passionate about eco-friendly business practices and office wellness, Lisa is a member of the TPA's LEAF Team, which advises management on sustainability issues, and she also sits on the Airport's Wellness Committee.
She's also a huge advocate for her profession. Lisa is a member of the American Society of Administrative Professionals (ASAP), The International Association of Administrative Professionals (IAAP), and the National Association for Female Executives (NAFE).
 She is a member of the Advisory Council for the Executive Assistant Summit at the 2017 American Society of Administrative Professional's Conference, and a member of the "EA's of Tampa Bay" networking group.
As a breast cancer survivor, Lisa has led a team of walkers called the Pink Messengers in the Hillsborough County Making Strides Against Breast Cancer Walk for the past four years. She is also a United Way HandsOn Suncoast volunteer.
Lisa is married to her husband Peter, who owns a home maintenance and repair business called House Fixers, and the two live in north Tampa. She loves walking, jet skiing and watching baseball. She considers herself a Tampa Bay Rays "superfan".
She's also very close with her daughter Jessica, who is now grown, living in south Tampa and working at a law firm downtown.