Employee Spotlight LaVida Starks
In 16 years at Tampa International Airport, La Vida Starks has seen it all. As the Risk Management Coordinator, she's often the first point person to hear about a slip-and-fall accident or a fender bender or any sort of claim handled at the airport.
"No day is the same," La Vida said.
As someone who deals with danger and risk every day, one would never know she's a competitive roller skater.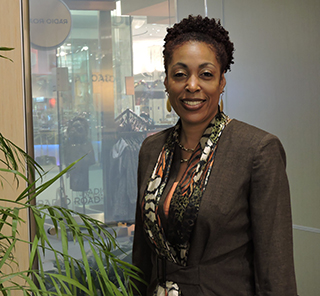 La Vida is a longtime member of Step-N-Style, a team that performs synchronized dancing on traditional four-wheel roller skates, sort of a "prissy version of roller derby," she said. Her team has skated in parades, along Bayshore Boulevard and in regional and national competitions, and it's been featured in local newspapers and on public access TV. She and her teammates recently auditioned regionally for the chance to be featured in a movie; they didn't win the trip to Hollywood but they did place third in their region.
"Skating is my passion," La Vida said. "I'll be old and on one leg with a cane and I'll still be out there on skates."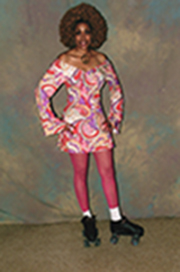 La Vida, who modeled evening and wedding gowns for the former Burdines department store and for Tampa Tribune illustrations when she was younger, caught the dancing bug early and was a Dancerette at Jefferson High. But she gave it up early for the chance to participate in the school's business co-op program as soon as she was old enough to work.
"I always wanted to be a worker, especially in a corporate environment," she said. "I loved the idea being dressed in a business suit and an attaché case."
She worked as a temp in the accounting department for Critikon, a Johnson & Johnson affiliate, and after she graduated, she worked at various law firms doing secretarial work. In 1998, she went to work for the Hillsborough County Tax Collector and a year later took a job in what was formerly the Aviation Authority's Properties and Contracts Administration department (now divided into the Concessions, Real Estate and Disadvantaged Business Enterprise departments).
Shortly after coming to the airport, she took advantage of the Aviation Authority's tuition reimbursement program and attended the University of South Florida, earning her B.S. in Business Administration.
About a year ago, La Vida took over as the airport's Risk Management Coordinator, which seems to fit her perfectly. As the oldest and only female of four siblings, La Vida has a friendly touch and an empathetic manner that helps when she's handling people who are confused about claims. She also helps with several outreach programs, particularly at job and recruiting fairs for people with disabilities, and she's been helping the airport's Planning and Development Department organize focus groups to make TPA more accessible for those in wheelchairs or with sight and hearing impairment. She's been helping with the airport's new Owner-Controlled Insurance Program (OCIP) for the new Master Plan expansion project workers. She also handled lot of tasks for the Disadvantaged Business Enterprise Program and helps explain to business owners how to do business with a government organization.
"I wear a lot of hats," La Vida said. "Claims is my main priority but I like doing outreach and talking to people. I get a lot of great feedback, especially from those who have disabilities, and it really makes you appreciate the little things you take for granted."
In between her job and roller skating, La Vida likes to spend time with her husband, three adult stepchildren and her cocker spaniel, Sheeba.
Her husband, Gerald, is also an avid roller skater. She met him after he gave her a playful push at the roller skating rink to get her attention, much to her annoyance.  They married five years ago.