Employee Spotlight - Laurie Noyes
Tampa International Airport Director of Concessions Laurie Noyes grew up just outside of Washington D.C., and was always a very focused, driven and visually creative child. She danced ballet, tap and jazz and dreamed of going into fashion merchandising, a career goal her parents fully supported.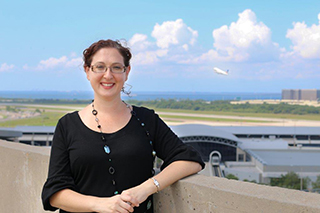 After high school she attended the University of Delaware, one of the few U.S. colleges at the time that offered a fashion merchandising program. As a sophomore, Laurie spotted a flyer on a campus bulletin board advertising internships in mall management. She applied, landing an unpaid internship at a local Westfield shopping mall management office to get some experience in the real world while working at a store in the mall at night to make money.
It was at that mall where she met her "mentor for life," a woman who saw something in Laurie and gave her invaluable advice before Laurie finished her degree.
"I wasn't sure what concentration I was going to pursue," Laurie said. "She told me, 'Finance will give you skills that will carry you for the rest of your life.'"
Laurie graduated from Delaware with a B.S. in Business Administration and a concentration in Finance, then went on to work in Washington D.C., "in the big city where I thought I should go after college." She worked a couple of financial-focused jobs, one doing data work to support expert witnesses in U.S. Securities and Exchange Commission trials and another at T. Rowe Price as a mutual fund accountant in Baltimore.
All the while, Laurie kept in touch with the woman who mentored her at Westfield. "I told her, 'You know, this kind of work doesn't feel like what I should be doing.'" The woman, now a regional VP with Westfield encouraged her to apply for an executive assistant position with the shopping center company, which Laurie took to right away.
"I learned all about the business and got exposed to so much in that job," Laurie said.
Laurie quickly climbed from assistant to assistant manager and then general manager over the next several years. In 2003, she moved to Florida to be the Westfield Citrus Park general manager and wound up working on several regional projects, including the redevelopment and repositioning of the struggling Sarasota Square shopping mall.
As a general manager for malls, Laurie was responsible for all aspects of the shopping centers where she worked. She oversaw marketing, finance, accounting, tenant relations and construction, operations, maintenance and local leasing and sponsorships. She handled media inquiries. She dealt with day-to-day disasters and shortfalls. She was on call 24-7.
By the time her second daughter was born, Laurie needed a change. She was always intrigued by airport work, as Westfield had several business partnerships with airports around the country and many of her colleagues came from the airport side.
So when a Manager of Concessions position opened up at the Hillsborough County Aviation Authority, Laurie jumped on it. Still on maternity leave with her 3-month-old baby, Laurie interviewed at the airport and joined the Concessions team in June of 2012.
"I was very excited about the Concessions Redevelopment Program," Laurie said. "It's why I came here."
Laurie's hard work on helping develop the program has paid off in many ways. Not only is she now able to see one of the biggest and most exciting transformations take place at TPA, but she was also recently promoted to Director of Airport Concessions, a role she said "has been wonderful so far" thanks to the support of her  peers.
Laurie lives in Riverview with her husband, Bill, and her children, 6-year-old Gabbie and 3-year-old Carly. The family spends a lot of time shuttling to the children's activities and swim lessons, visiting Laurie's family in Maryland, going to Busch Gardens and generally relaxing when they find the time. "We do a lot of laughing," Laurie said. "Bill likes to make me laugh, especially when I've been having a stressful week."
It's been a heavy workload this past year for Laurie as the Authority prepares to present their food and beverage and retail selections to the Authority Board in June, followed by two years of implementing the exciting new plan. She couldn't be more thrilled.
"I'm going to be in Tampa for a long time, and it's my name and my reputation tied to this program," Laurie said. "I think about all the awards we're going to win, all of the people who will be affected by this … This will absolutely transform the community."