Employee Spotlight - Kyle Doyle
(March 2, 2017) While studying finance in college, Kyle Doyle figured he'd get a job on Wall Street "making more money than he could ever imagine". Soon after graduation, though, he realized what was actually available to him were not the types of positions that he wanted to work in.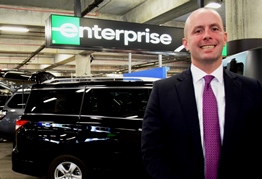 He had some friends in the Washington D.C. area who encouraged him to apply with Enterprise Rent-A-Car.
"I never thought I'd be renting cars for a living," Doyle said. "But 13 years later I couldn't be happier with my career choice."
Kyle is now the Group Rental Manager for Tampa International Airport's Enterprise Holdings operations, which include Enterprise Rent a Car, National Car Rental and Alamo Rent A Car. After working in local rental car offices in the D.C. area for several years, he took an opportunity to oversee car rentals at TPA in 2013, just as the Airport was planning to expand and build a new consolidated rental car facility.
"It'll be a different experience for our customers that routinely fly into Tampa but overall it will be a much better customer experience for everyone," Kyle said. "The rental car companies have all outgrown our footprint here and we're eager to have more parking, more space and easier pick-up, drop-off and exiting for our customers."
Kyle didn't know much about the Tampa area when he moved here. Born and raised in New Jersey, Kyle grew up in a large family of five kids, an electrician father and a homemaker mother. He attended James Madison University in Harrisonburg, Va., choosing the school because his older sister went there and it was also in a beautiful area near mountains.
During college he worked at a restaurant where he met his now-wife, Monica. The two moved to D.C. together when Kyle joined Enterprise and eventually had a baby boy named Cooper, now nearly 4.
When Cooper was only a few months old, Kyle applied for the TPA Group Rental Manager position, not thinking he'd get it. But he did, much to the surprise of his wife, who would be leaving friends and family behind.
However, once the family moved to the Tampa Bay area, Monica was able to stay at home with Cooper, where they initially lived in Belleair Beach and were able to spend time lots of time enjoying the Tampa Bay area weather and beaches.  After about a week they all fell in love with the area and everything it had to offer.
Kyle said he has enjoyed growing with TPA over the past few years and being involved in the rental car facility negotiating and planning, which he believes will provide a huge opportunity for Enterprise Holdings to expand its operations, keep its cars centrally located and provide an even better experience for its customers.  He has also enjoyed working with such a hardworking, talented team at Enterprise Holdings in Tampa. 
"The Aviation Authority – Laurie Noyes, Al Illustrato, John Tiliacos and Joel Feldman -- have been absolutely incredible to work with regarding the ConRAC," Doyle said. "They view us as a partner rather than just a tenant so when we bring ideas to the table, they listen and it's an open dialogue."
The ConRAC is scheduled to open in early 2018.
Kyle now lives in the Westchase area with Monica, Cooper and their English bulldog. The family likes to spend time together on the weekends, still enjoying their favorite Tampa Bay area amenity – the beaches.