Employee Spotlight: Kerri-Lyn Francis, Terminal Getaway Spas
(May 3, 2018) A typical day for Kerri-Lyn Francis goes down like this: Wake up around 3:30 a.m., get her South Tampa massage and wellness clinic open before the first client arrives at 5 a.m., treat clients and do administrative work until about 2 or 2:30, then head to Tampa International Airport, where she's a joint venture partner of Terminal Getaway Spas, TPA's new massage and nail spas at each of the airsides.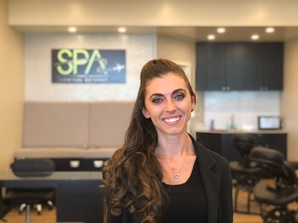 She still somehow manages to fit in seven to eight hours of sleep and a workout in between clients.
"My stress relief is working out," Kerri-Lyn said. "I practice what I preach, and even as much as I'm running around and working, wellness is definitely a priority to me."
Kerri-Lyn's can-do personality and entrepreneurial spirit make her a perfect fit for TPA's new spa concepts, which are new to the Airport and working to gain recognition and new clients as part of the concessions redevelopment program. As a small business owner already running a successful wellness clinic called KLynergy, she was approached by Terminal Getaway Spas to be a local partner in the new TPA locations and she decided to give it a shot.
"It wasn't on my radar to pursue a spa service business in an airport but I'm glad the opportunity presented itself," Kerri-Lyn said. "I'm excited to be here. It's challenging to start any sort of new concept in a new environment, but I'm learning and growing. It's all about recognizing patterns and learning the mindset of a traveler."
Born and raised in Rhode Island, Kerri-Lyn was the oldest of three siblings, played soccer and was always interested in health and wellness. After college, she began teaching applied sciences and massage therapy courses to healthcare professionals at a medical university in Virginia. She also launched her own massage therapy practice at the same time, setting a goal of eventually opening her own clinic.
Eight years ago, Kerry-Lyn moved to Tampa in hopes of carrying out that goal.
"I took a leap of faith and moved here knowing no one," she said.
But within a year, KLynergy was in business, attracting clients from all over the Tampa Bay area. The clinic provides massage, acupuncture, nutrition counseling, reflexology and other areas of wellness, and Kerri-Lyn also puts a strong focus on proper training of her therapists and ongoing education.
Kerri-Lyn never thought she'd find herself working at an airport but was happy to take on the extra job as a partner in the Terminal Getaway Spa business, which has opened up a whole new world of wellness clients. All of the spas offer therapeutic chair massage and the spas at Airsides C and E also offer manicures and pedicures for women and men.
She hopes to tap into the market of traveling clients as the spas begin to make a name for themselves at a rapidly growing airport.
"The traffic is here," Kerri-Lyn said. "The question is: How do we connect with our guests? How do we create that experience that they remember and want to repeat? We're kind of like a hidden gem right now."
The key to balancing such a heavy workload throughout the week, Kerri-Lyn said, is doing what she loves. She gets excited about going to work every day and helping people feel better.
When she's not working, she's doing two other things she loves – volunteering her time to community organizations and traveling. A Leadership Tampa alumni, she gives her time to several local non-profit and charitable organizations and served as the President of Artemis Guild of Alpha House.
Recently, Kerri-Lyn broke her foot playing soccer. As her foot healed, she also signed up for her first marathon, which she just completed a few weeks ago in Rome, Italy.
"I think your best growth happens," she said, "when you push yourself to the extreme."