Employee Spotlight - Kathie Taube
(April 18, 2018) Growing up in her hometown of tiny Homer, New York (population 6,405 as of the 2010 U.S. Census), Kathie Taube decided to major in Zoology while attending the State University of New York (SUNY) at Oswego.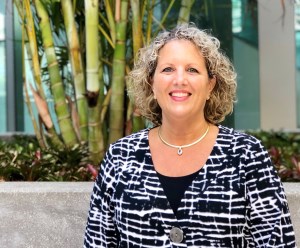 "I wanted to swim with Shamu, but that didn't quite happen," she said.
Instead, she went back to community college to take up accounting, which resulted in getting hired as a bookkeeper/manager for a Mexican restaurant in Ithaca, NY.
Armed with that accounting experience, she then joined the rest of her family members who had already abandoned the bitter winters of upstate New York for the Tampa Bay area in 1998. After stints with the Hillsborough County Tax Collector's office and the corporate office of Checkers Drive-In, she was hired as the fixed asset accountant at the airport in the spring of 1999 and was promoted to the Project and Grants Finance Manager in the fall of 2001.
Her area within the Finance department is to manage finances by remitting payments to the contractors, capitalizing the fixed assets and requesting grant reimbursement for the first phase of the master plan expansion, the largest capital program in the airport's history.
She also worked on the financing side for construction of airsides C and E, as well as the re-make of the baggage claim area.
"In the past, we might have paid out $5 million a month, and now we might pay $30-40 million a month," she says. "It's not that we have extra invoices and pay applications coming in. We probably have the same amount. They're just at a higher level and more complicated."
In her time away from the airport, Taube enjoys going to the beach. She has always maintained a residence in Pinellas County, and now calls Clearwater her home. She also loves to travel, frequently to the Caribbean, where she can indulge in snorkeling.  Her all-time favorite spot to visit so far has been Ireland, which she toured two years ago.
Her ever-growing bucket list includes an African safari and a trip to Alaska.
She also has a fascination with sharks, noting that the Discovery Channel's "Shark Week" is one of her favorite times of the year, and swimming with great white sharks is also on her bucket list.
"But in a cage, of course," she said.