Employee Spotlight - Juan Caro
(November 9, 2018) If you've seen an ARFF firetruck anywhere on Airport property, chances are that Juan Caro has played a big part in keeping that vehicle going. As the Maintenance Repair Leader, Juan supervises, trains and maintains a team of technicians who service and repair ARFF vehicles.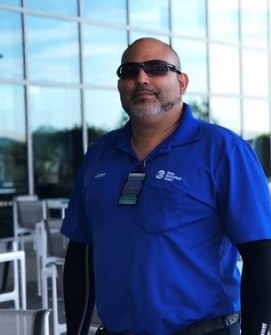 When Juan started at TPA four years ago as an Equipment Mechanic 1, he had 23 years of experience in the automotive industry under his belt.
At that time, the ARFF trucks were maintained off-property by the city. One of the first major projects in Juan's career at TPA was developing a maintenance program so that ARFF trucks could be serviced in a shop on Airport property.
To make this work, he studied manufacturer's recommendations and was even sent to Oshkosh, Wisconsin, for training. Although working with firetrucks was a different type of work than Juan was used to, he was open to the new knowledge and excited to spearhead this project.
 Juan soon moved up in his ranks after his superiors saw his love for training and extensive knowledge dealing with engines, machines and vehicles. In his next role as an Equipment Mechanic 2 and soon 3, he was supervising a team in the shop while also working on maintenance logistics in his office.
"I'm the type of person who does not hold back my knowledge. Everything I know, I try to push forward for others to be successful as well," Juan said. "For me that's the key of having a good team."
When it comes to the future of the team, Juan says with the new Superintendent, David Wright, he sees the shop moving forward in the right direction. He wants the shop to have the same high standards typically found in a dealership.
When he's not working on cars, Juan continues his handiwork with 3-D printing, airbrushing, artwork and reefing. He has created many different pieces, from shelves and figures to plaques with his family's name. A 135-gallon fish tank stands tall at his home with about ten fish and plenty of live corals which he has grown from small pieces of coral – a difficult task that takes hard work and attention to detail.
"I love challenges," Juan says.
He has always had a knack for problem-solving and making things "work."
Just like he does with this team at TPA, Juan has a strong relationship with his family – his wife, who he's been with since middle school, two sons, Josh, 23, and Jahel, 16, and eight-month-old grandbaby, Mila.