Employee Spotlight - Juan Barcia
(February 15, 2018)  When Juan Barcia was young, he envisioned himself working as a film director. He graduated from high school in 1991, only to find out that the options available to him in his native Cuba were slim.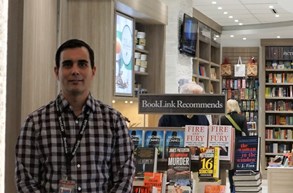 After this disappointment, Juan decided to go with his second choice – books.
He studied literature at Havana University and later won a Visa lottery in 1997 and came to the United States in 1999. The first thing he saw when he landed in Miami was a NewsLink stand selling books and magazines, his passion.
"When I get all of my paperwork done," Juan thought at the time, "I'm going to come back and apply."
And he did.
Juan started as a cashier in a NewsLink store in 2000. Since then, he has worked his way up in the company from cashier to Supervisor to Manager. Juan ultimately reached the General Manager position when he relocated to Boston to open and manage  Boston Logan stores. He relocated once again to Tampa, where he is the General Manager of all of TPA's NewsLink stores, including NewsLink, Time Zone/Shades, AirEssentials/InTune Electronics, BookLink and, soon, The Shoppes at Bayshore Boulevard and Bay to Bay News / Peace Love World.
He believes that great customer service is key.
"I want every customer to remember their amazing experience at NewsLink," he said.
Working at a bookstore, Juan's team has plenty of opportunities to establish relationships, friendships and conversation with customers. One of his proudest moments came when an employee suggested a book to a customer who was a teacher. The teacher bought it, read it and later got enough copies of the book for her entire class to read. The customer later sent an email with her story and a "thank you" to the employee. That was when Juan knew that his team was capable of making a difference.
He says that his goal as the General Manager is to make sure he creates a good environment at TPA with customer service at its forefront.
Although he spends half of his time at work in his office, Juan strives to be in the stores as much as possible. His favorite part of the job is spending time with his employees and seeing new people in his stores every day.
Juan said he can't see himself working anywhere but at the Airport.
"I love my job, and I want to keep learning," he said.
Juan considers work his home, but he loves to watch movies and read when he has free time.
"Although I work with books, I am still a movie critic," Juan said.
Juan learned to be hardworking, driven and highly motivated from his dad. When his father passed away last year, Juan decided he would continue working hard and making his dad proud.
"I took over in his honor," he said. "I am leading his legacy, and I know that he is proud of me."