Employee Spotlight - John Mallory
(March 15, 2017) Before coming to Tampa International Airport almost five years ago, John Mallory had worked on just about every type of construction project. He started his career working for a small general contracting firm out in the field tying rebar and pouring concrete.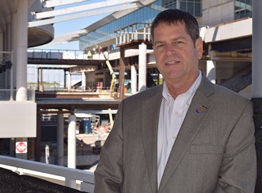 He later worked for larger companies as he worked his way up to being a superintendent and then into project management. He worked for a developer building condos before the housing market crashed and then he moved back to the more stable commercial side overseeing large projects throughout the area.
Now as the Director of Construction handling nearly $1 billion in expansion projects at TPA, Mallory feels like he's reached his "dream job."
"I almost feel like my entire life has been training for this," Mallory said. "I feel so blessed to be in this position." 
Mallory is practically a Florida native, having moved to Largo with his family of six when he was only a few months old. The area at the time was mostly fields upon fields of orange groves. His father was a condo developer who owned his own business and was a "workaholic," a trait he passed on to his children who all went into different fields of work. Mallory's older sister is rocket scientist working for Honeywell, his older brother is a doctor and his younger brother works in IT software development.  All still live in the area.
Not knowing what he wanted to do after high school, Mallory's father pointed him toward construction so he attended the University of Florida's School of Building Construction and fell in love with it. He enjoyed helping create something from the ground up and knew it would be a lifelong passion.
Mallory heard about a TPA manager of construction position from a previous employer that was working at the airport, Hardin Construction, and was thrilled to join the Authority in August 2012. At the time, the Airport was still discussing and planning the first phase of the Master Plan and Mallory remembers the excitement of getting the green light to build.
Now as Director of Construction, Mallory is watching the new rental car facility, automated people mover and Main Terminal expansion getting closer and closer to being completed, which is even more exciting. He especially gets joy from working with new, small and local businesses and woman- and minority-owned businesses that start out with the nervousness of being the new kids in the class and watching them succeed.
"It really is rewarding to help other businesses grow as we're growing ourselves," Mallory said. "We try to celebrate all of the little wins and well as the big ones."
Mallory lives in Tarpon Springs with his wife of more than 25 years, Debbie. The couple have two children, 21-year-old Chase who is studying pre-med at UF and 19-year-old Cara who is a freshman at USF.
To unwind, Mallory enjoys some fun and unusual hobbies.
He's an avid player of wallyball, which is a game much like volleyball except it's played off walls in racquetball courts. He plays with friends a few times a week at Innisbrook Resort.
Mallory also breeds the somewhat rare Gouldian finches, also known as rainbow finches for their stunningly beautiful colors. Over the years, Mallory and his family have rescued and owned a number animals, including pigs, chickens, a flying squirrel, a baby duck, a variety of snakes and the mice whom Cara rescued from being eaten by the snakes. The family also has two dogs, a Lab-Golden Retriever mix and a Havanese-Shih Tsu mix.